The Wedding of David and Manmit, featuring the Duke Trio
Our Duke Trio were thrilled to be a part of the wedding of David and Manmit at Gunners Barracks at Chowder Bay in Mosman. As a preferred wedding supplier to Gunners Barracks, we're always glad to be back at this stunning historic venue. With an exceptional team of staff they ensure every wedding is a smooth and enjoyable experience for couples and their wedding guests, along with wedding vendors.
Duke were part of their Ceremony, Canapes and Dinner music, performing live as a Duo and Trio throughout. We then kicked off their dancefloor with a live performance, finishing up the night with a DJ set to ensure dancing kicked-on all night long. Whilst we have the pleasure of sharing these wonderful photos by Jason Corroto and talking more about David and Manmit's day, we thought we'd also share some insight into Gunners Barracks and why we think it's an exceptional wedding venue here in Sydney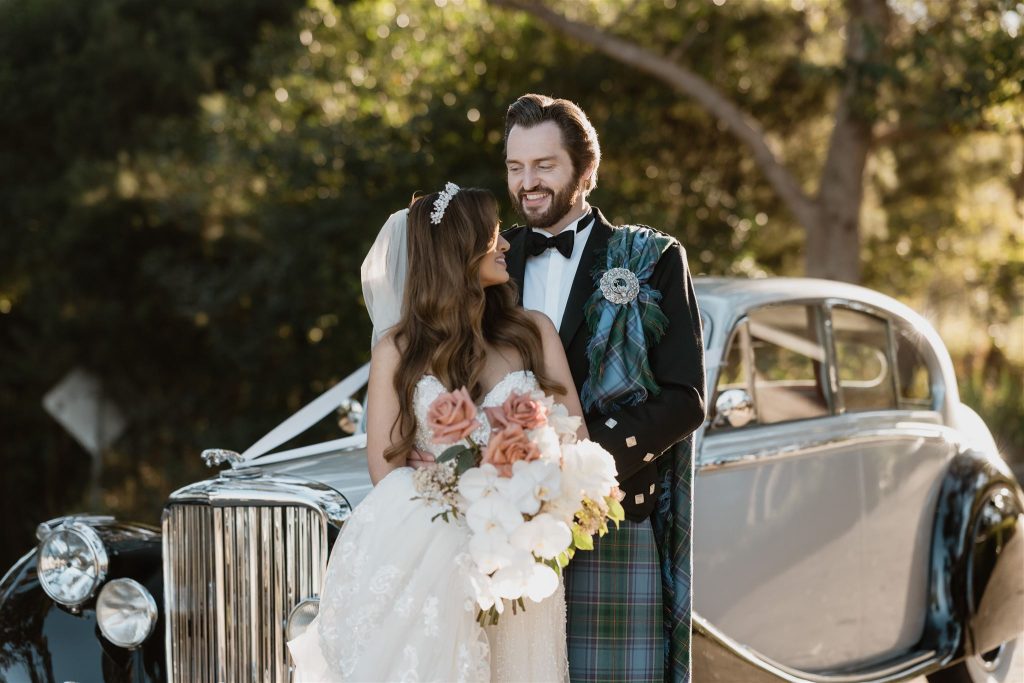 About Gunners Barracks
The Gunners Barracks is the perfect Sydney Wedding Venue to make your big day an unforgettable occasion. Located in Mosman on Sydney's North Shore, the venue is a stunningly beautiful site outside and welcoming and charming within. This venue has been designed without compromise, giving your guests a magical experience from the moment they arrive. Each special element of your wedding is expertly met with desirable amenities that will exceed all expectations.
With exclusive hire and remarkable views, this Grand Pacific Group offering ensures that your wedding will be an event unlike any other. When you decide to get married at Gunners Barracks, you'll find that there is room to style the space however you choose – whether it be a big black tie formal event or something more intimate like an elopement. Gunners' Barracks can accommodate events of up to 180 guests cocktail style or up to 130 for a seated event. Event bookings have a minimum of 10 guests. Whatever embellishments you decide to add or what level of grandeur suits your celebration best, this venue will serve as great host and accommodate appropriately. When planning your big day at Gunners Barracks, every detail down to the last is taken care of so you can enjoy much happiness surrounded by all who matter most in this beautiful setting!
With a secluded setting and captivating harbour views, weddings at Gunners' Barracks are affairs to remember forever. The venue has three beautiful locations for wedding ceremonies, as well as custom-styled reception areas with elegant and historic charm. This iconic landmark is one of Sydney's most sought-after outdoor ceremony locations in addition to being an elegant indoor reception venue. Choose from three equally beautiful and unique ceremony locations, before moving inside to enjoy dinner and dancing with your guests.
Set in an exquisite building on Sydney's North Shore, Gunners' Barracks is the perfect waterfront wedding venue choice for couples to celebrate a special occasion. This five star venue offers all the necessary elements when planning a big day, with three exclusive outdoor locations that can be stylishly decorated, beautiful indoor and outdoor spaces, and top-notch food and wine carefully planned by experienced staff. Couples can also take advantage of being given the exclusive use of the venue throughout their entire reception.
Read on below to find out more about their stunning spaces.
The Ceremony Locations
Gunners' Barracks offers three beautiful ceremony locations for couples looking to exchange their wedding vows; The Harbour Terrace, The Sandstone Courtyard, and the Harbour View Lawn.
The Harbour Terrace provides stunning views of Sydney's iconic harbour from North Sydney, with a range of historic military buildings located nearby. The perfect backdrop to capture the moment, this outdoor venue is ideal for modern weddings. The expansive Harbour Terrace offers spectacular views across Sydney Harbour and the city's skyline. The beautiful outdoor space is spectacular for drinks, dining or canapés. The retractable roof makes it an ideal choice no matter what the weather condition.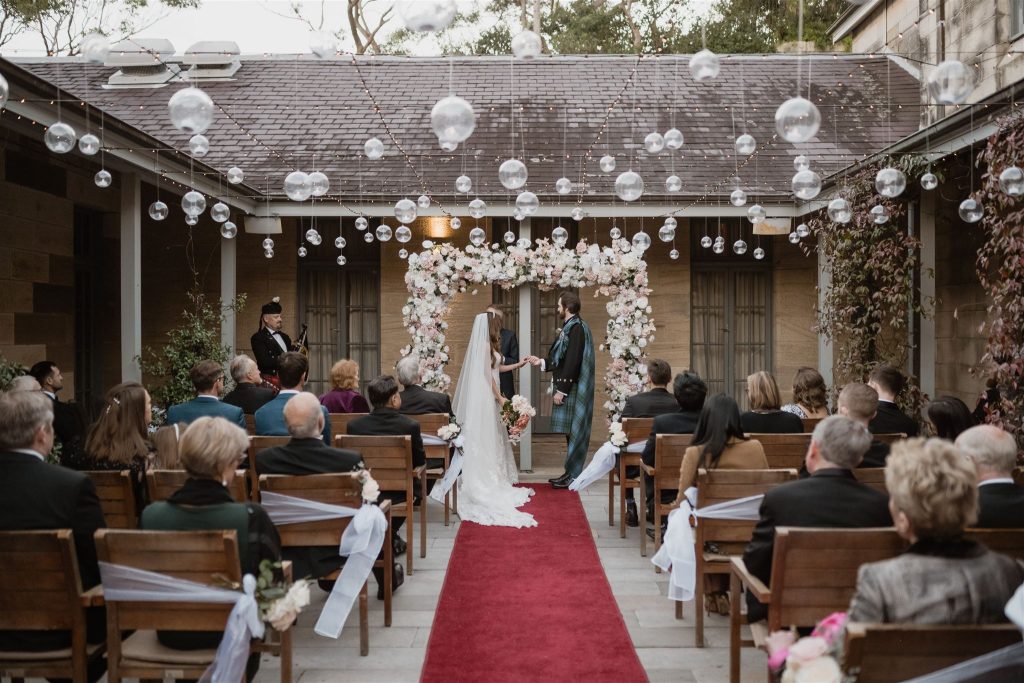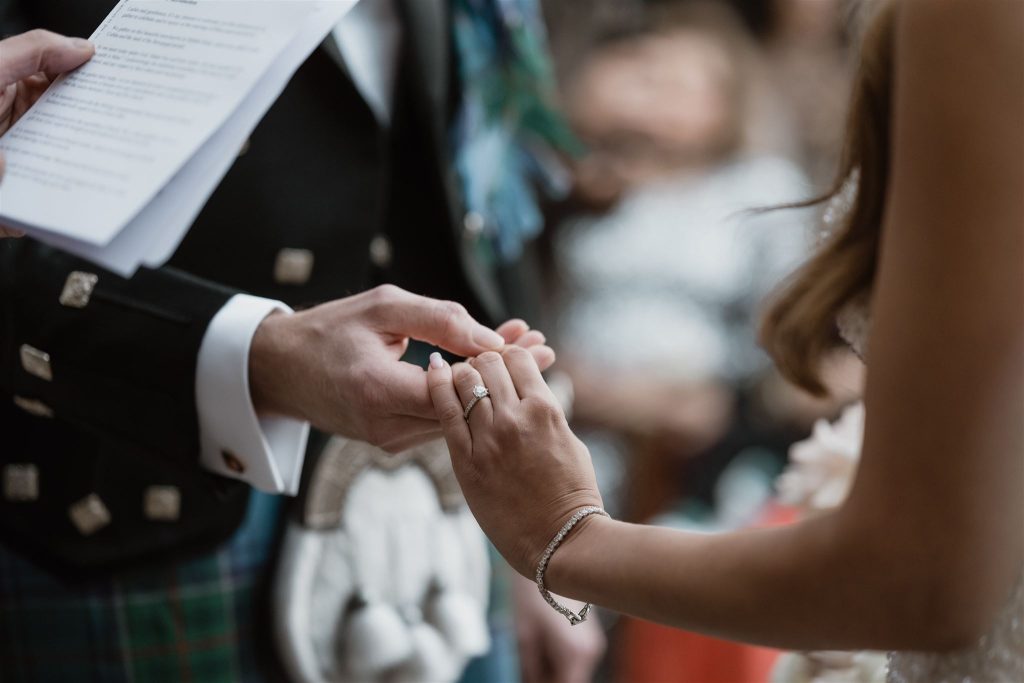 The atmospheric Sandstone Courtyard makes a wonderful Ceremony location, outdoor dining space or Dance-Floor area under the canopy of twinkling fairy lights and the star-filled night sky. The Sandstone Courtyard also has everything a couple could want in a timeless setting surrounded by impressively restored historic sandstone buildings. On top of that, the area hosting the ceremony is luxuriously and artistically lit after dark so you can truly make it an unforgettable experience for all your guests on your wedding day.
Finally, for larger numbers, Gunners' Barracks provides the magnificent Harbour View Lawn which includes expansive beautiful bushland and plenty of room to accommodate up to 200 guests. With panoramic views of Middle Harbour and beyond, this elegant open-air venue is perfect for after-ceremony photos!. Whatever location you choose, rest assured you'll have a wedding ceremony like no other at Gunners' Barracks!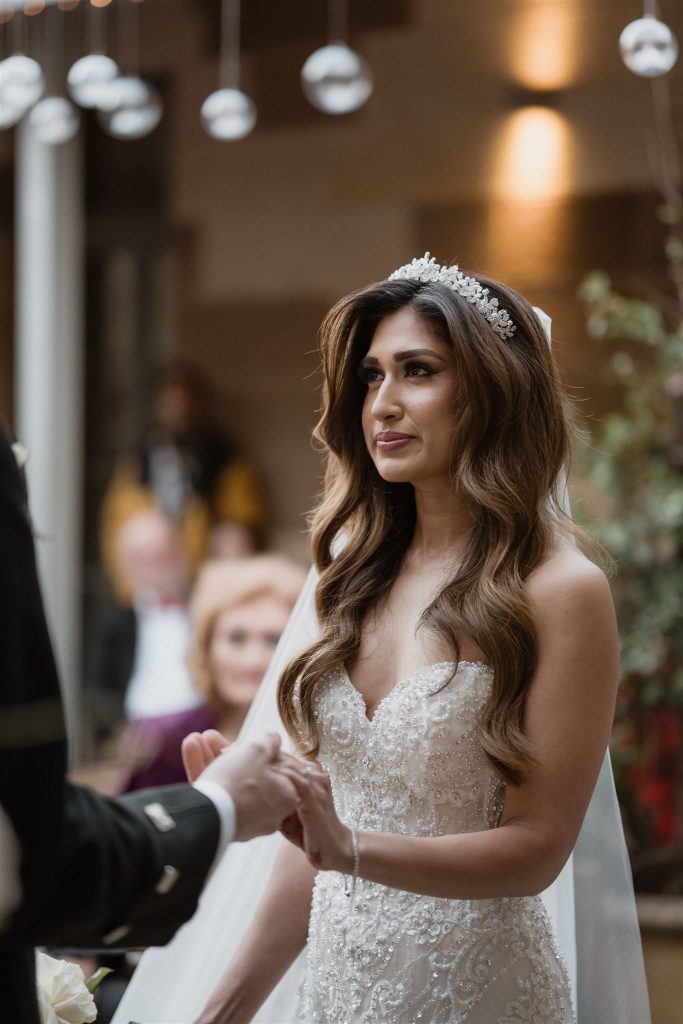 About David and Manmit's Ceremony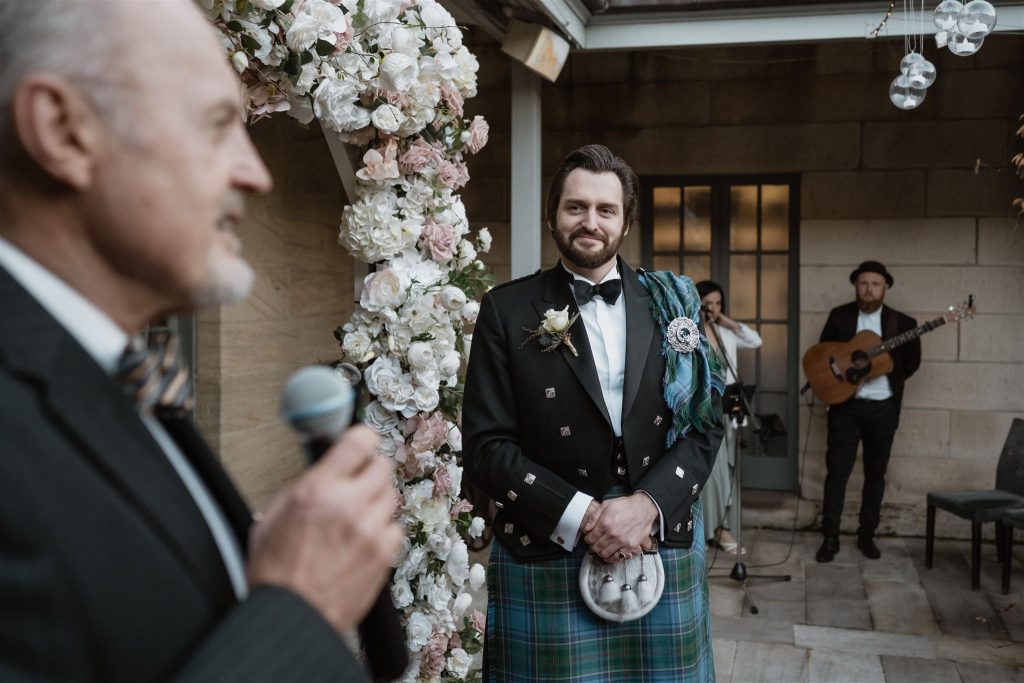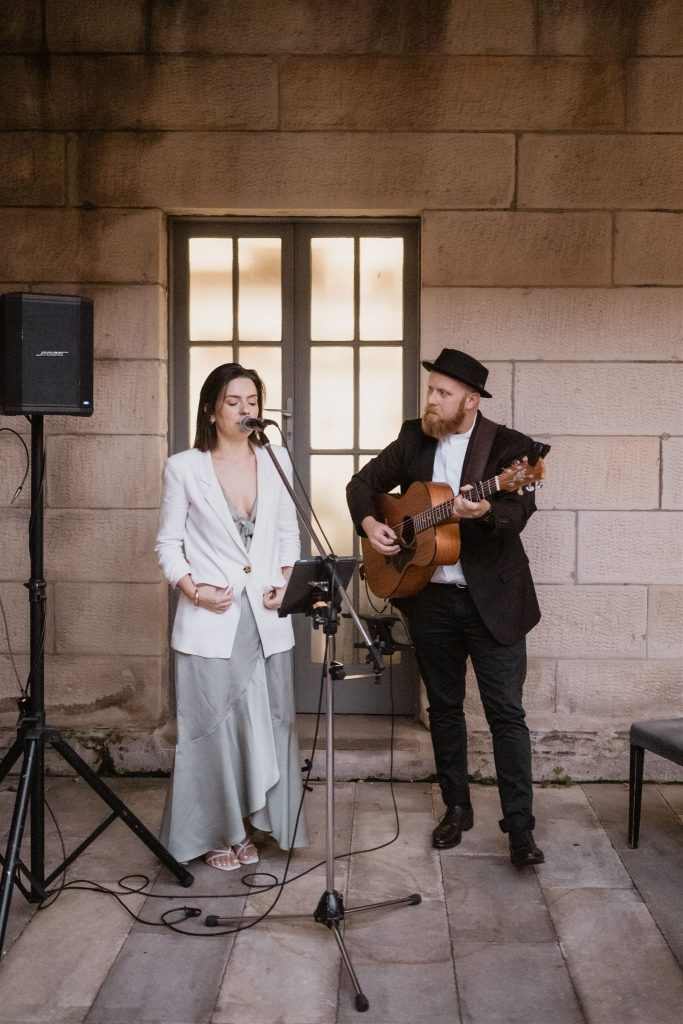 David and Manmit chose the Sandstone Courtyard for their Wedding Ceremony.  We were there to perform for guests as they arrived at the Ceremony, however Manmit was walked down the aisle to the sounds of Bagpipes. With a nod to their Scottish heritage, the Sydney Bagpipes were a wonderful musical addition to their day.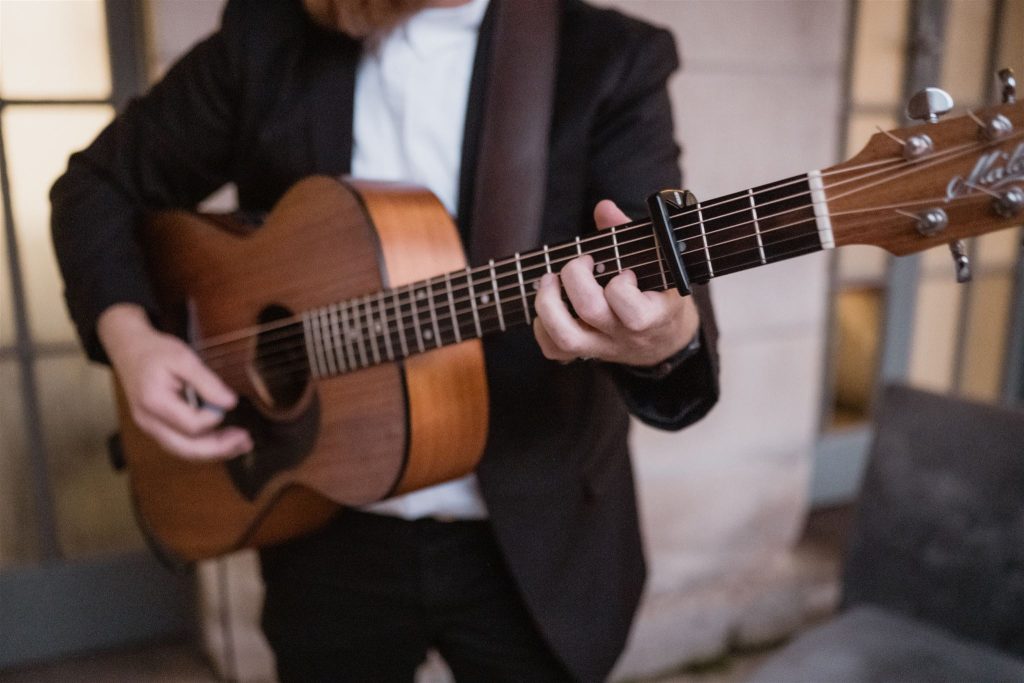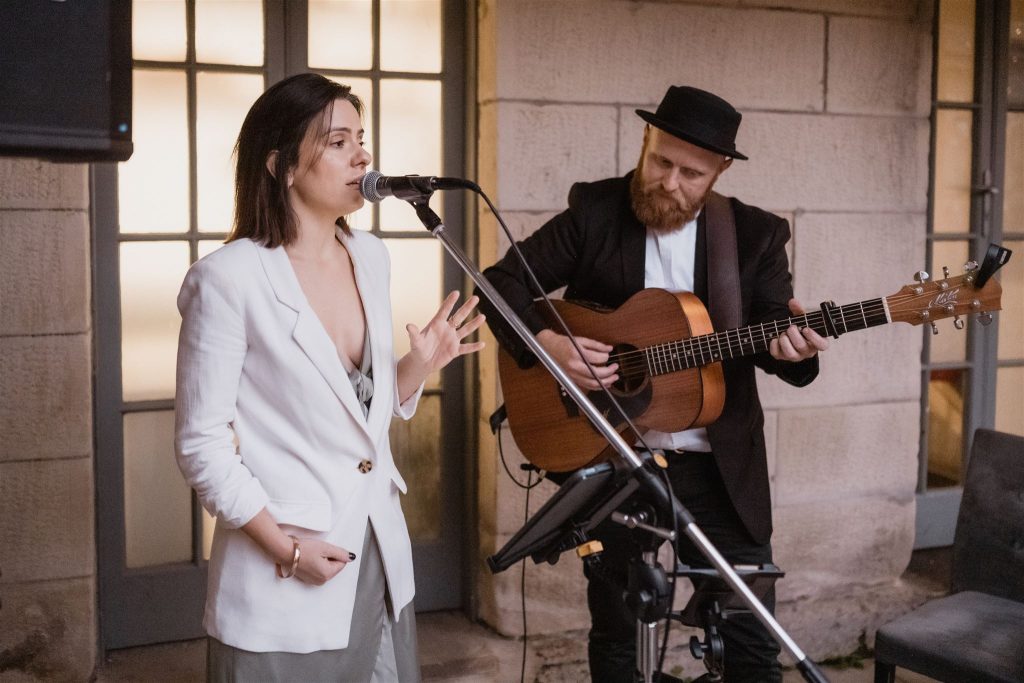 They had a unique selection of songs that we were very excited to learn and perform. Duke kept the love vibes high with our rendition of That's All I've Got to Say by Jimmy Webb during the Signing Of The Register.  David and Manmit were officially announced husband and wife by their Minister and seen back down the aisle to the gloriously celebratory sounds of the Sydney Bagpipers again.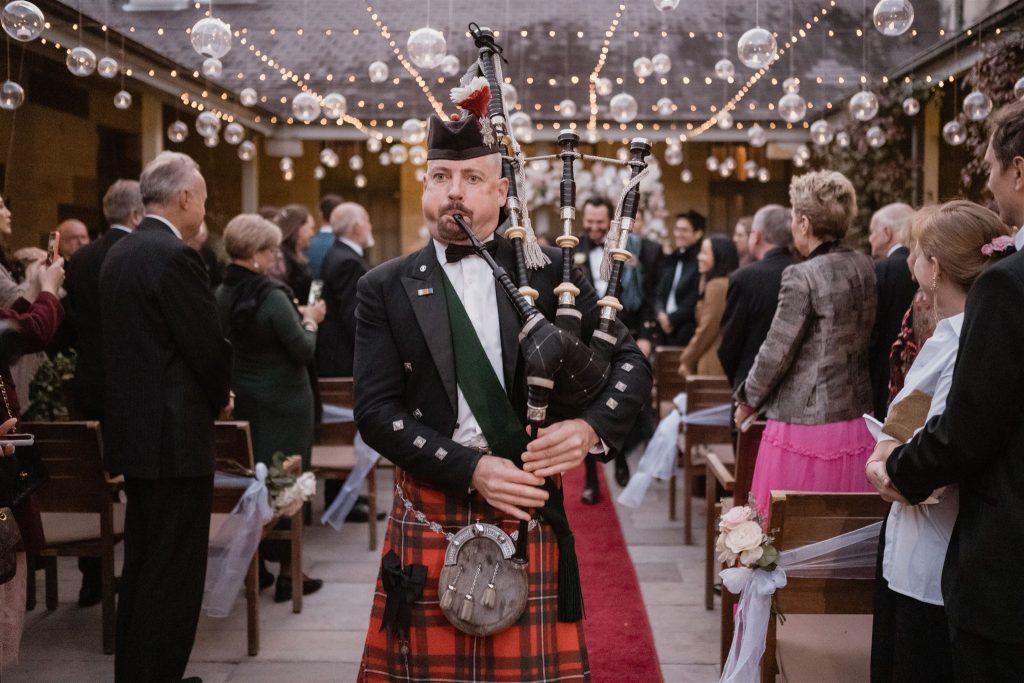 Nearby Wedding Ceremony Locations
Situated in the picturesque and historic area of Mosman, on the North Shore of Sydney, is a wonderful array of great Ceremony locations that are a must-see for any visitor to Sydney.

Headland Park is one such destination and it's one of the oldest parks in Australia. From this jaw-dropping location, your guests can enjoy stunning views of the harbour, especially from Georges Head Lookout. It's an ideal place for exploring Mosman's rugged coastline and guarantees breathtaking views from almost every angle.
For those looking for something a little more laid back, nearby Obelisk Beach offers all that could be desired when it comes to relaxation. Here visitors will find sheltered pools perfect for swimming and plenty of activities available including fishing, picnicking and sunbathing.
A short drive away lies Clifton Gardens which boasts lush gardens, manicured lawns and wide open green spaces – perfect for a leisurely stroll or a picnic lunch at sunset. Georges Heights has some of the most stunning vantage points anywhere on Sydney Harbour with uninterrupted views across to Manly, Vaucluse and to the city of Sydney. Georges Heights has some of the most stunning vantage points anywhere on Sydney Harbour with uninterrupted views across to Manly, Vaucluse and to the city of Sydney. With arguably some of the best views in Sydney, Georges Heights was once used by the military as a lookout spot to see approaching enemy ships.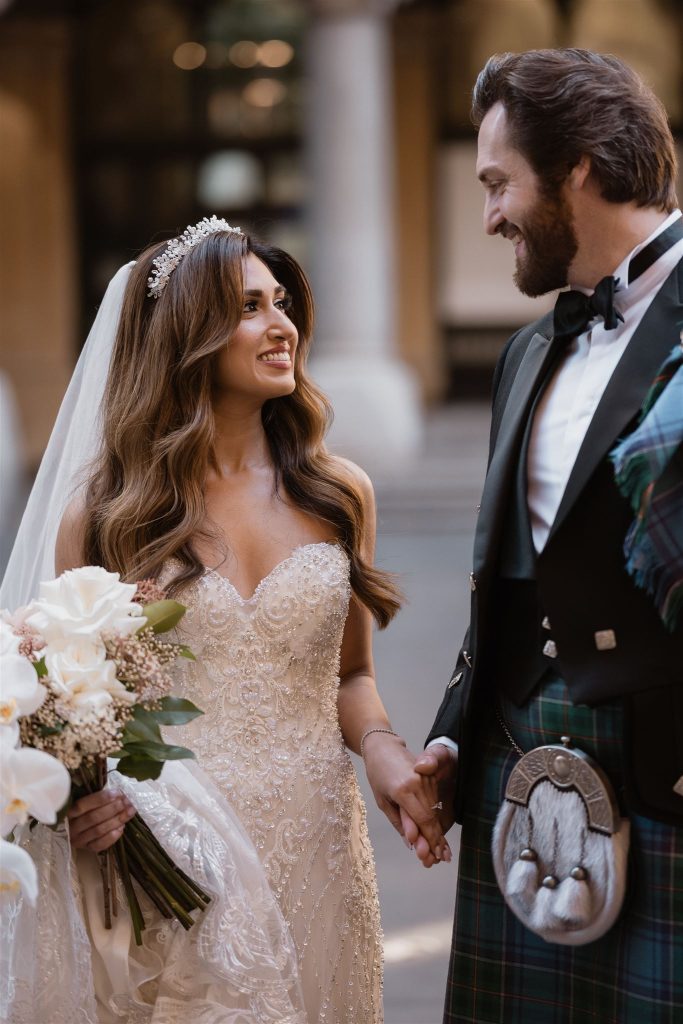 The Reception Venue
Opulent, photo-ready furnishings, Waterford chandeliers, hand-printed Florence Broadhurst wallpaper, and ornate furnishings feature within Gunners' Barracks. These details not only provide an added element of luxury but offer perfect photo opportunities for wedding photographs. Enjoy timeless elegance in the private Drawing Room filled with natural light. Set the room as a sophisticated lounge area for you and your guests, or transform it into a wedding reception dance-floor.
The Harbour Terrace provides a breathtaking outlook of the harbour at night, a picturesque backdrop for those weddings on a smaller scale. The Harbour Terrace is the perfect spot for your guests to enjoy their Canapes or Dinner. On the other hand, larger weddings are able to reap the benefits of The Main Dining Room, which features all of the traditional hallmarks of Gunners Barracks, from its stunning natural beauty to its artistry throughout.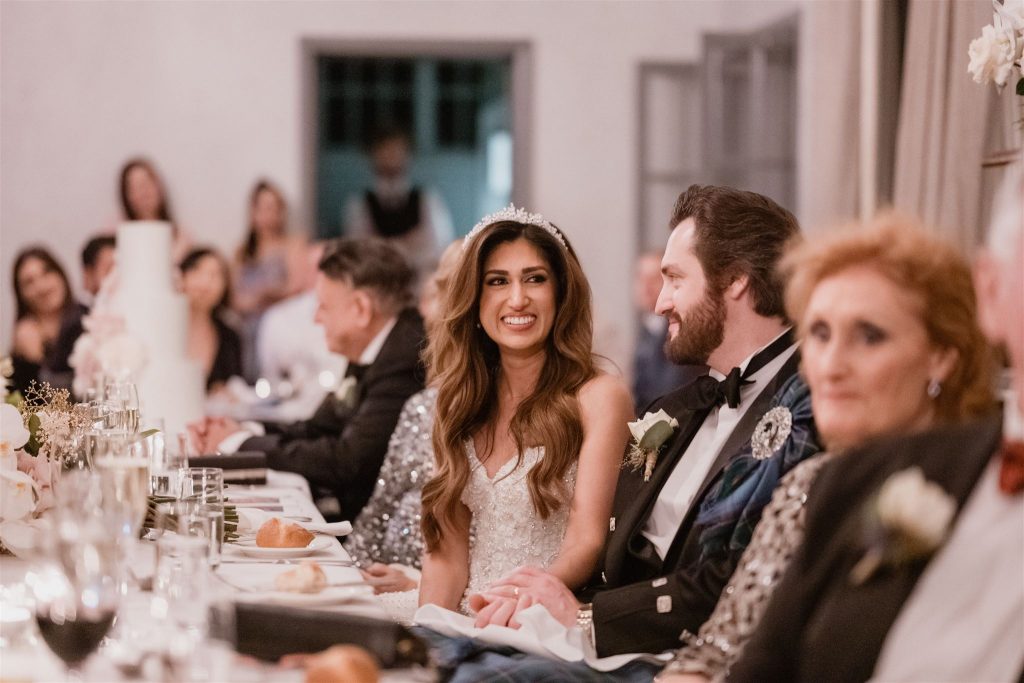 On the day of David and Manmit's wedding, The Main Dining Room at Gunners Barracks provided the ideal setting for their special day.
Even after the sun goes down, this charming Mosman venue keeps up with its captivating allure through carefully fashioned lighting solutions as well as culinary delights crafted by talented chefs ensuring every mouthful tastes like perfection. You and your guests will be left in awe as you take in the splendor of Gunners' Barracks for yourself—it just doesn't get better than this!
From its intricate stained-glass windows to its ornate wooden furniture and warm fireplace, The Main Dining Room has an old-world charm that is perfect for a wedding day. The room was decorated with fresh flowers, candles, and twinkling fairy lights to create the perfect ambiance for David and Manmit's special day.  After a delicious meal and plenty of great speeches, David and Manmit cut their cake to the sounds of Duke performing 'Kiss Me' by Sixpence Nonethericher, after which guests relocated to The Courtyard to have their First Dance to: All My Life by Kci & Jojo. Guests were handed sparklers and you can see the moment was truly magical in their photos!!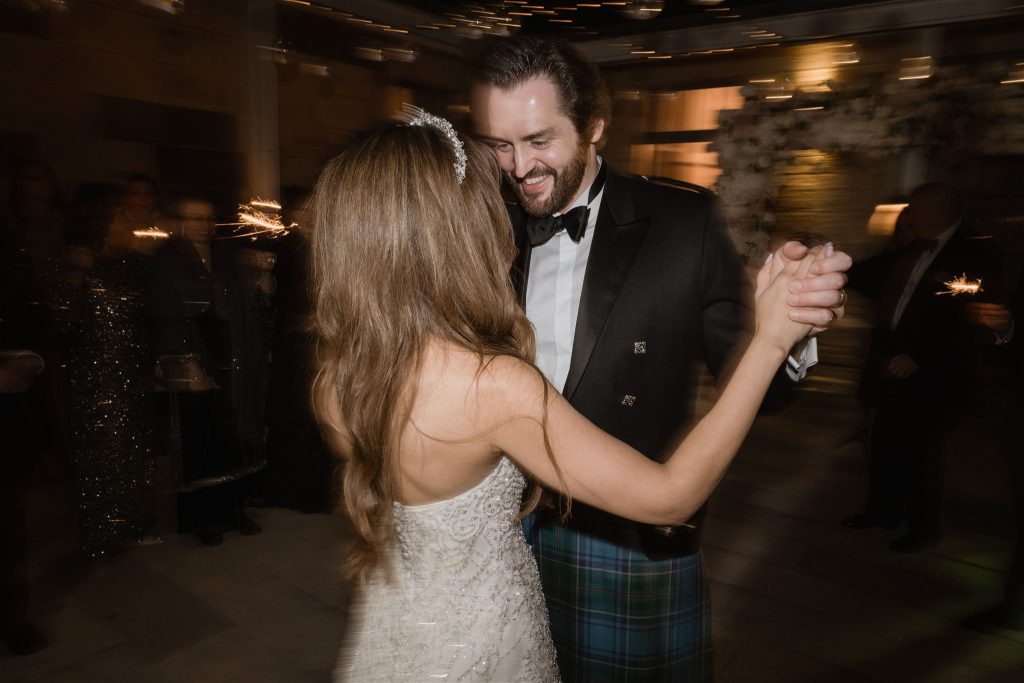 'I Wanna Dance With Somebody' by Whitney Houston was the kicker that started the Dance-Floor for the rest of the night's partying. Our Duke Trio kicked-off the dancing with a live set, which then transitioned to our DJ service to ensure guests were partying till the night was through! David and Manmit were sent lovingly off into married life at the end of the night to Lionel Ritchie's 'All Night Long' – a fitting anthem for a lifelong journey of love ahead.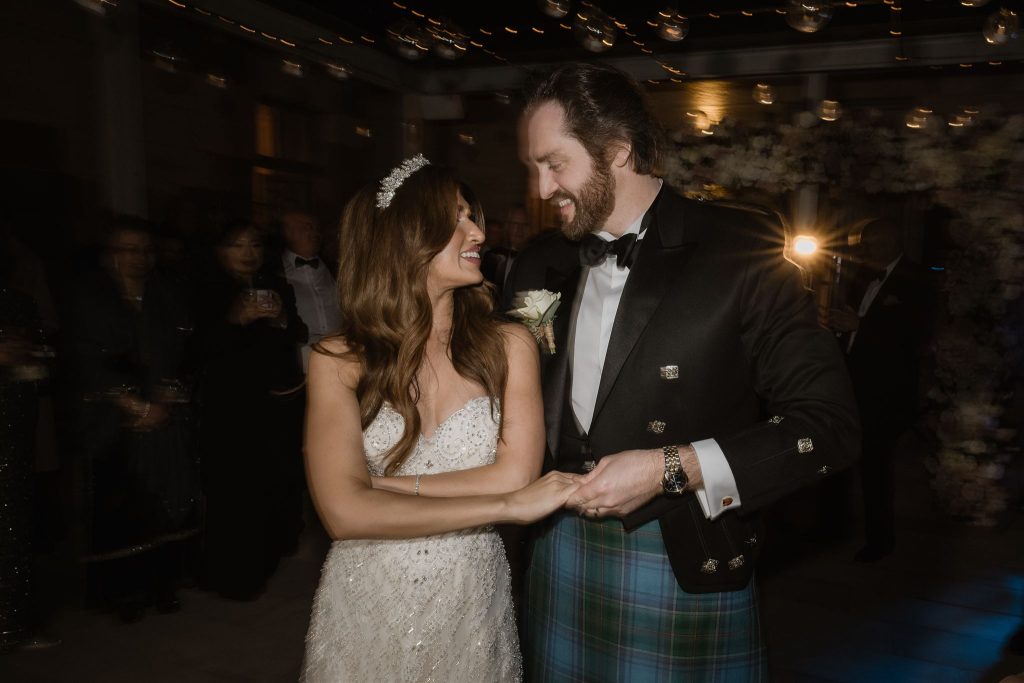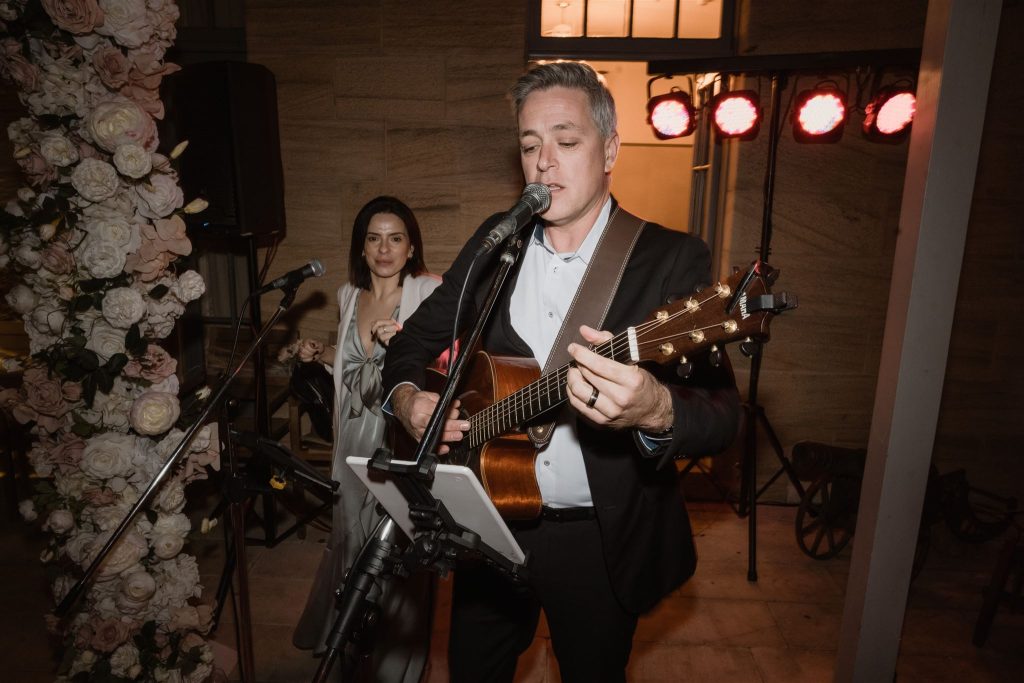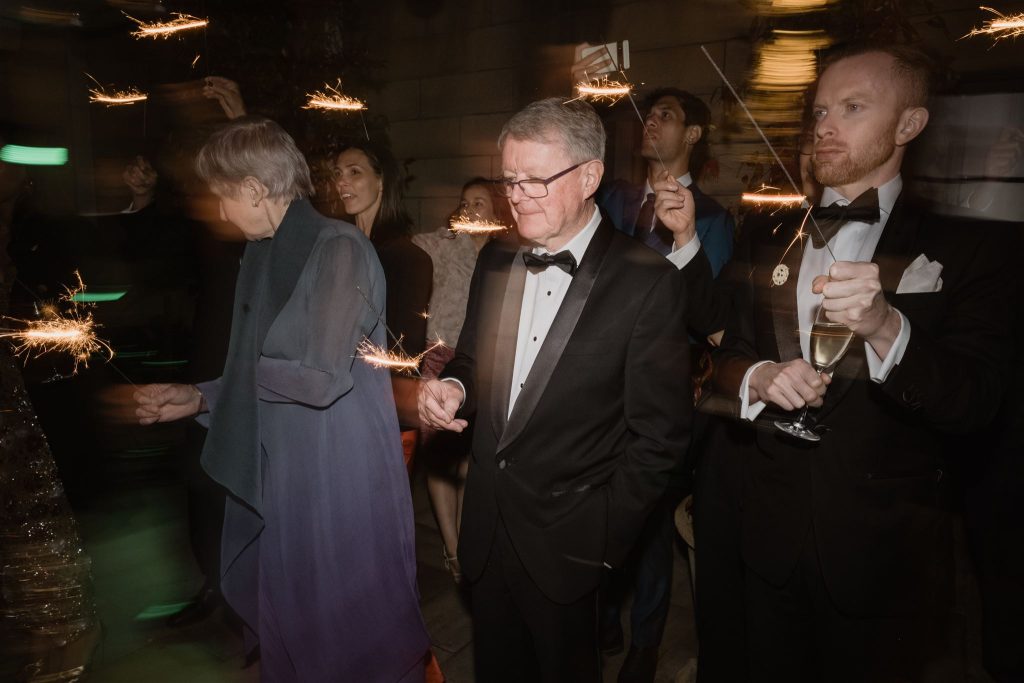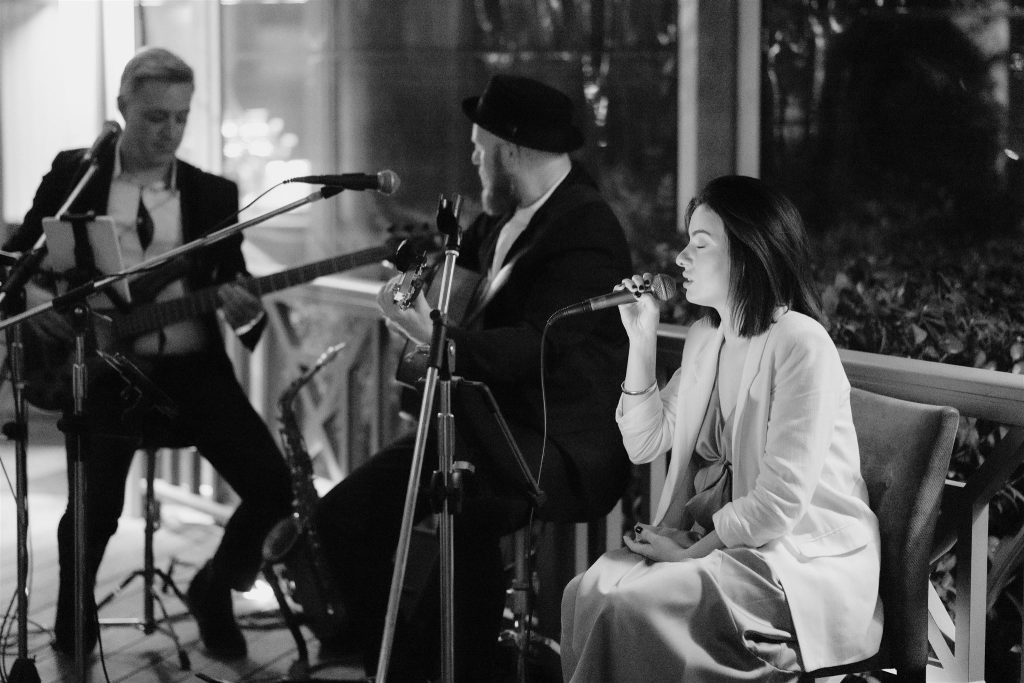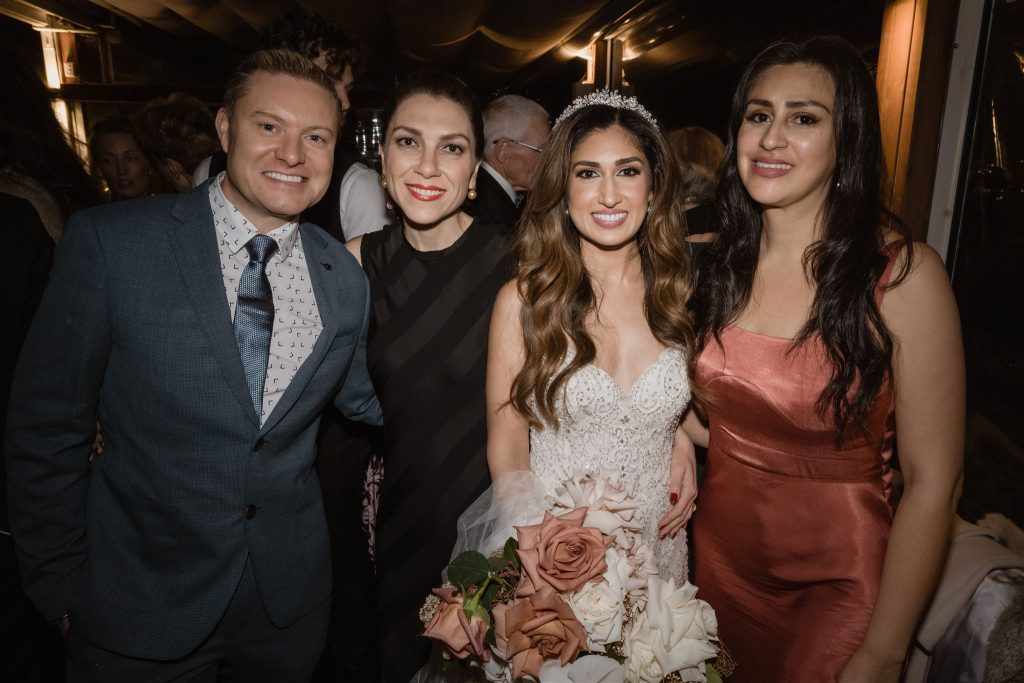 Why we love The Gunners Barracks
We highly recommend Gunners Barracks Weddings to all couples planning their wedding day. As wedding musicians, we appreciate the atmosphere and amenities that this unique venue offers. The Grand Pacific Group team consistently exceeds expectations with their meticulous attention to detail, ensuring that every couple's vision is realized. Given the exclusive access they provide, you can be assured that your special day will be free of any additional stress or concerns, as only what you have requested will be present.
The harbor views offer a beautiful setting for weddings, enhancing the romantic atmosphere of each celebration held here. Every aspect of the venue, from the outdoor pavilion to the indoor dining room and lounge areas, has been designed to provide a luxurious and memorable wedding experience. One notable aspect of this venue is its historical significance during Australia's times of war, which adds a unique character and honorable touch to all weddings hosted at Gunners Barracks Weddings. Gunners' Barracks provides a high-quality experience and ensures a lasting impression for your event.
A huge thank you to David and Manmit for having us be part of your special day. As always, thanks to the team at The Gunners Barracks for having us!
Pictures By: Jason Corotto Photo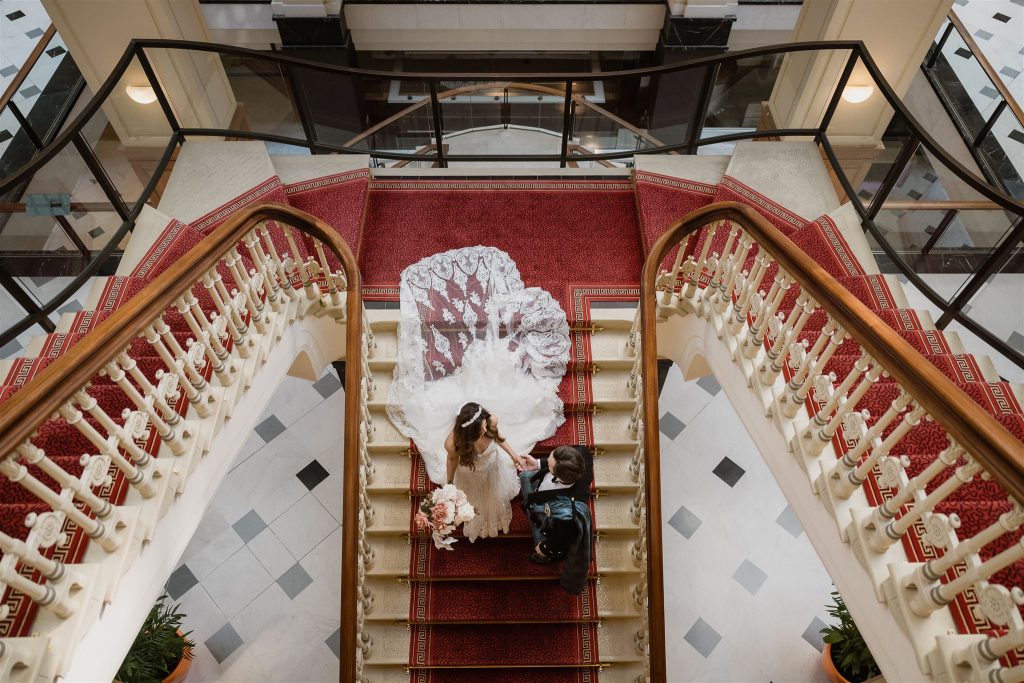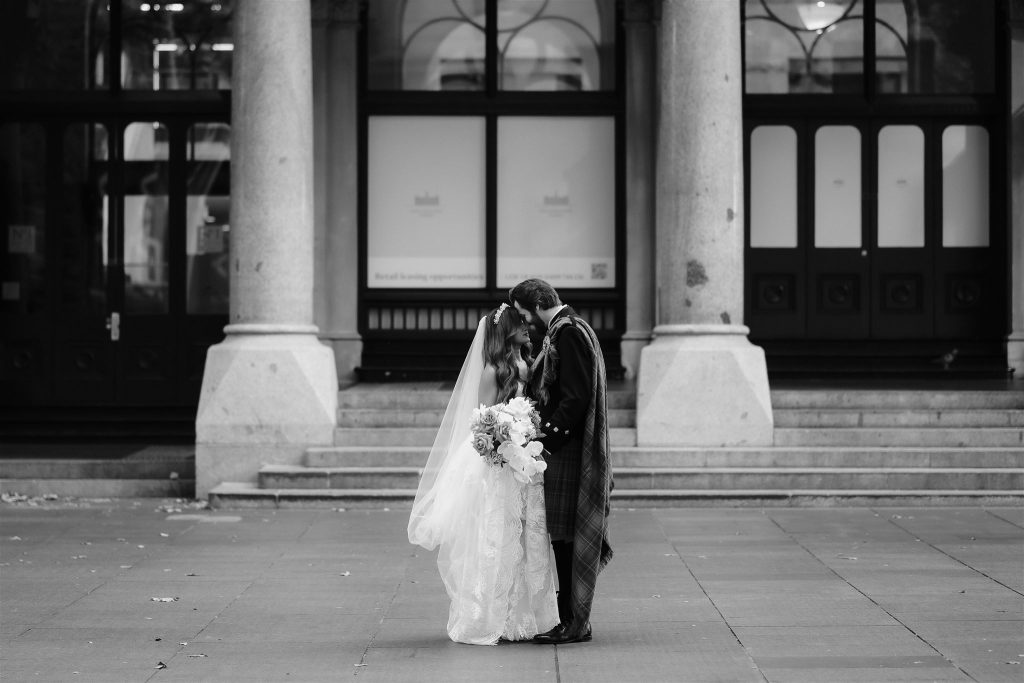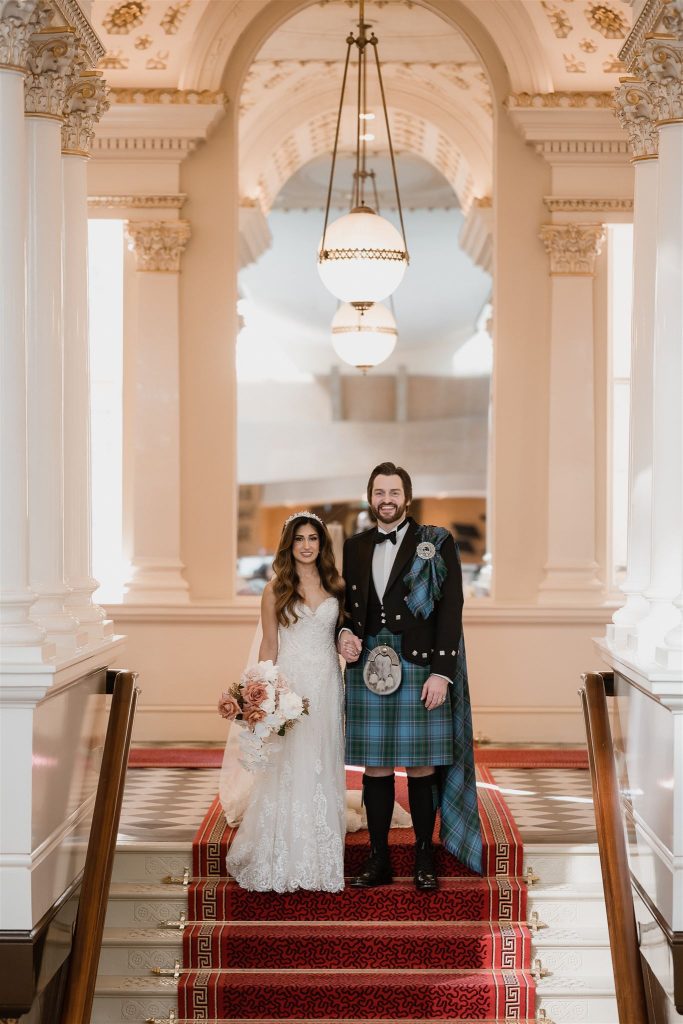 Vendors
Photographer – Jason Corotto Photo
Videographer – Rolling Canvas
Cake – Copper Fork Cakes
Florist – Best Buds
Bagpipes – Sydney Bagpipers
Venue – Gunners Barracks, Mossman