A stunning 100-acre property, tucked away in lush wine country and immersed amongst expansive park-like grounds.  It's the perfect escape from the hustle and bustle of the big smoke – an escape from reality – your own little piece of nature.  We call it a picture-perfect secluded paradise that invokes feelings of home and comfort.  But whatever image and feelings you want to project onto it, it is exactly how it will be.  Because The Woodhouse Wollombi is a magical blank canvas, a place where you can paint your own masterpiece – your own dream wedding, your way.  As the owners like to put it –  "Your Day Your Way – Let Your Imagination Run Wild".
Here's your invitation to the "gallery viewing"  of  Natalie and Sam's masterpiece wedding.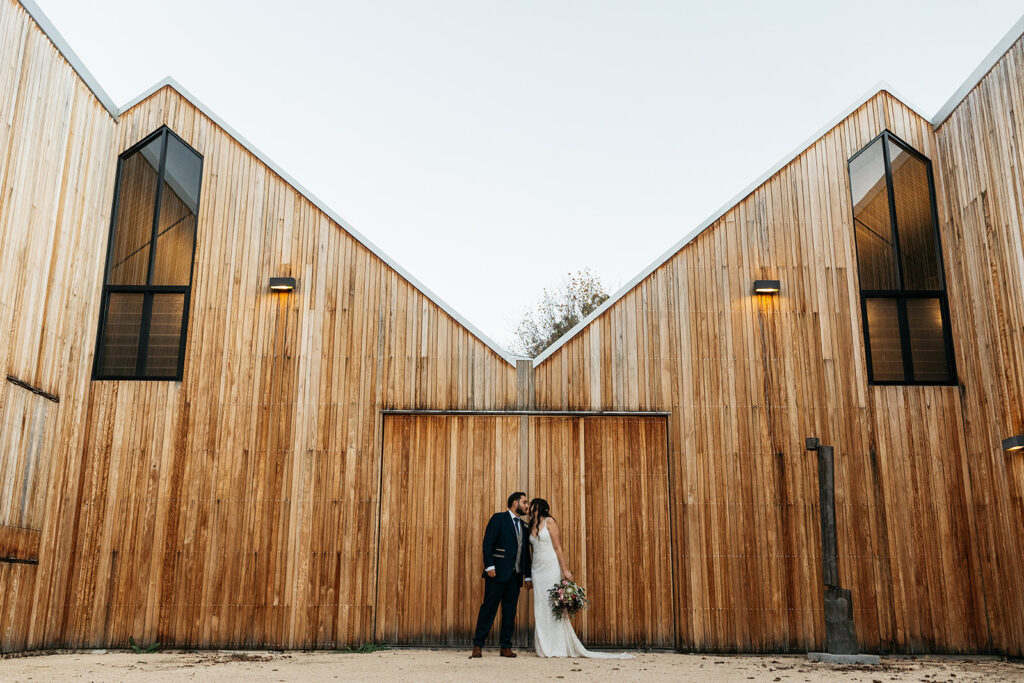 Sitting in the middle of Red Wood Park Wollombi, is "The Woodhouse": A rustic but refined timber building with high ceilings and large light filled windows.  With this European-like aesthetics and barn-like architecture – nothing more needs to be done against this blank canvas, except to add a bride and groom!
A masterpiece isn't complete without an element of still life.  Natalie and Sam took inspiration from the native Australian landscape and enlisted the help of Print 35 for their invitations, floral designs by Little Wrens (just look at that bouquet and boutonnieres!), a subtle addition of Australian flora on the wedding cake by Messina and a splash of greenery on the dining tables also by Little Wrens.
There is nothing quite like the the sights and sounds of people bringing a blank canvas to life.  The gathering and celebration of love, life and culture of the special bond between Natalie and Sam were beautifully captured by Studio Something.  Here are some highlights!
The Accompanying Soundtrack
Duke helped to curate an experience with Natalie and Sam, so they, along with their guests could immerse themselves in a celebration for their love. Our Duke Duo provided a pre-Ceremony music soundtrack for Natalie and Sam to set the tone for a beautiful Ceremony. Tim (from Duke) was also honoured to accompany traditional Vocalist, Isser, on Guitar, whilst he provided his talent as their traditional Jewish singer throughout the Ceremony. Working alongside Isser, we were able to provide a perfectly balanced music experience that incorporated Natalie and Sam's traditional choices with the romantic atmosphere they wanted to achieve.
One of our favourite aspects of performing at The Woodhouse Wollombi is the stunning location they offer for Wedding Ceremonies and Canapes hour. It's a short stroll down the hill from the Reception location to a serene and elegant spot. Chris Gable from our Duke team performed as a soloist during Canapes hour, providing a Sax and Vocal performance to accompanying backing tracks. It was the perfect afternoon to enjoy a beverage or two to the delightful tunes and sociable atmosphere provided by Chris Gable.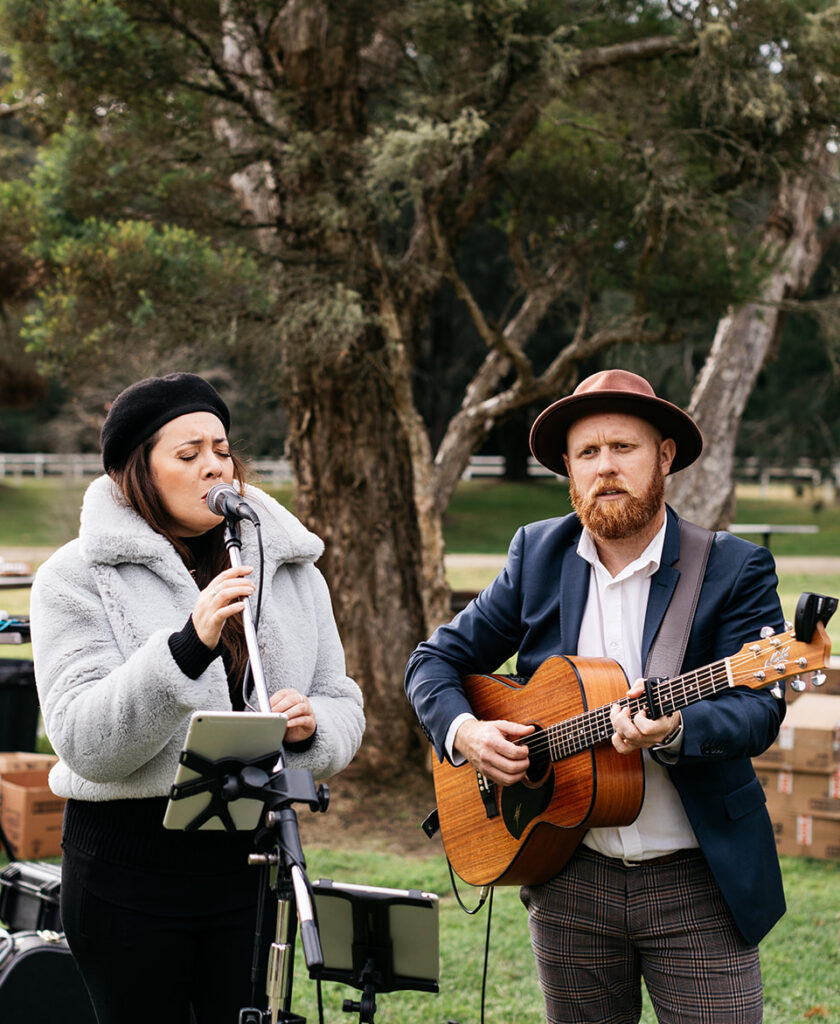 As sunset hit, out came the dancing shoes with the Duke Band kicking off the festivities with the Hora. It was thrilling and exciting to say the least, we're in awe of how Brides and Grooms survive such an epic experience! 

Guests moved inside to enjoy Dinner service, during which our Duke Band provided some light and delicious dinner music for everyone's tastes. Once dinner and the formalities concluded,  Natalie and Sam shared their first dance to Lover of the Light by Mumford & Sons.   Our Duke Quintet continued the evening with a full dance floor featuring bangers by The Chilli Peppers, Kings Of Leon,  Stevie Wonder, and Queen. Check out for yourself just how much fun we had in these fabulous pics by Studio Something.

Thank you Natalie and Sam for having us be a part of your wonderful wedding day at The Woodhouse. 
Natalie and Sam's Wedding used the following suppliers to create their masterpiece!