It's not often, that you can say your marriage was witnessed by the greatest artists in history.  Neither can you often say that your wedding was just like out a movie.  For Tyler and Ben this EXACTLY what they will say to everyone about their wedding!  Duke Music had the honour of providing the soundtrack to this timeless and unforgettable wedding day.  The photos in their own right deserve their own exhibition.  Let's take you on an artistic and cinematic adventure on what was a truly enchanted day!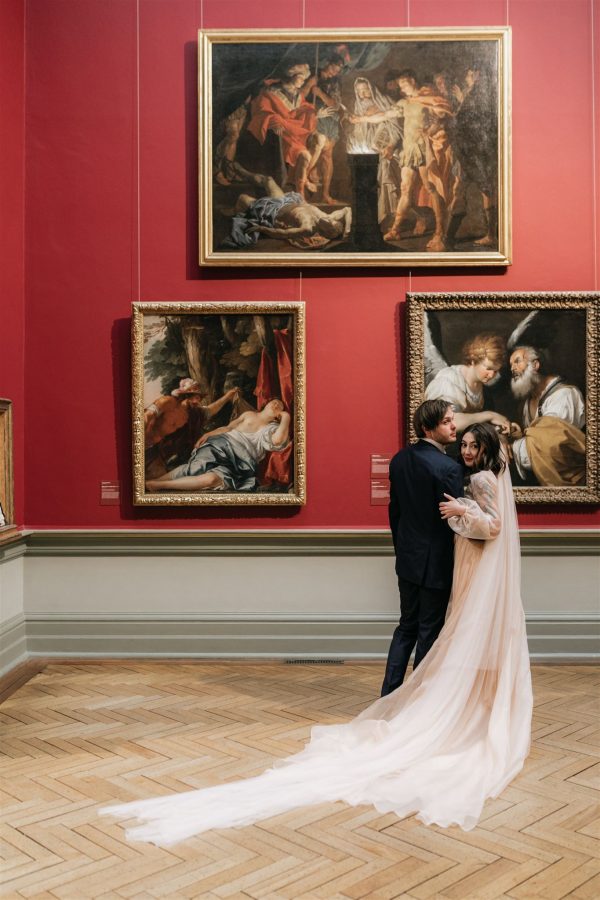 Tyler and Ben were inspired to recreate their first date, featuring art and cinema.  They also saw their wedding day as an opportunity to have an "ultimate date night".  Their wedding was a simple yet luxurious, understated yet decadent and ignited all the 5 senses.  The day started off with preparations at The Old Clare Hotel, a boutique hotel with an old world charm feel. This would set the mood for the classically romantic day that would unfold.  With Ben's suit by MJ Bale and a beautiful touch of bridal couture by J. ANDREATTA for Tyler's bridal gown, this was certainly going to be a stylish affair and the perfect ingredients for an ultimate date night.
The Art Gallery of NSW was the backdrop for Tyler and Ben's wedding ceremony.  What a beautiful iconic building to celebrate the first moment they had together as a couple and to relive it on the first day as a married couple!  There was a cheeky dash of comfort added in with Springcourt shoes.  As you will see, this subtle touch of fun, will be an ongoing theme throughout this day, putting a unique spin on how a wedding can have a fresh approach.
Tyler & Ben's very own Art Exhibition
The images captured by Lei Lei Clavey were so breathtaking, that little words need to be said.  Enjoy these works of Art!
The Cinematic Soundscore by Duke Music
For the reception, we take a trip down memory lane to Golden Age Cinema & Bar.  Tyler and Ben decided to drop all the formalities such as grand entrances and speeches to ensure an uninterrupted party for all and that's where DUKE Music came in.  Josie, Tim and Chris from the DUKE trio provided an unforgettable motion picture soundtrack to accompany for this fine vintage affair.  We provided 4 x 45 minute sets with a range of old school hits and followed it up with a DJ set with tunes ranging from Elvis Presley to Blink-182.  Out came the choc tops to replace the wedding cake and the night was young!
"You guys are insane. Everyone is literally still talking about you guys and the way you handled all the old emo hits. Everyone love your mini version of 1,000 miles - so many people's favourite part... honestly we can't wait to have another excuse for an event to get you back."
Still with us?  We don't have any additional scenes for you but our friends at HELLO MAY did an editorial on Tyler and Ben's wedding.  Find out the finer details of how they planned their wedding from the couple themselves.