We were so lucky to perform for Alastair and Nicole at this stunning wedding venue in the Hunter Valley.
Peppers Creeks boasts one of the best wedding venues in the Hunter Valley, perfect for your Ceremony, Reception & Wedding Accommodation. After a year of waiting, Alastair and Nicole's wedding day finally arrived! It came as no surprise to us Dukies that after the long and patient year of waiting for their postponed wedding date, Covid wasn't going to stand in the way of these two having the wedding day dreams are made of at Peppers Creek. We were lucky enough to perform for Alastair and Nicole at this stunning wedding venue in the Hunter Valley. Here's some info about their wedding venue and how their wedding day went down. Thank you to wedding photographer Red Moose Photography for these images.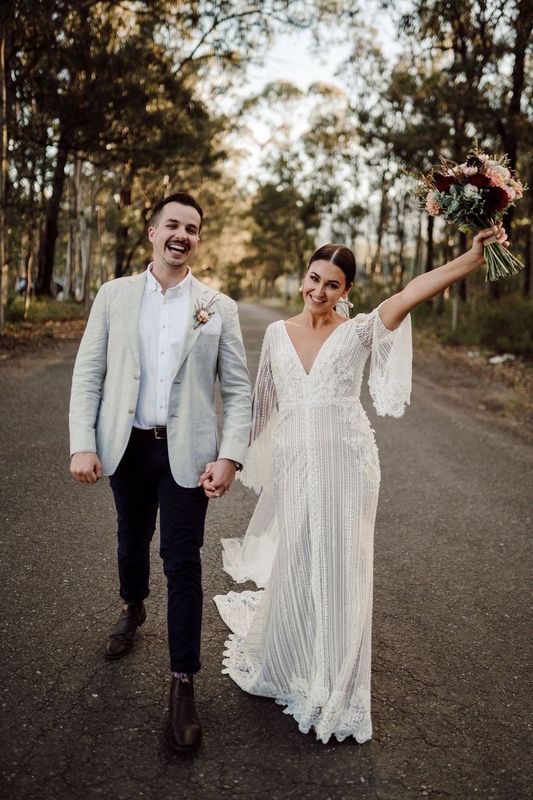 About their venue:
The Peppers Creek Barrel Room
Celebrating amidst the Autumnal vines of Peppers Creek Barrel Room in the Hunter Valley, our couple had the luxury of all their wedding plans happening in the same location. Hunter Valley Wedding Venue Peppers Creek Barrel Room is a beautiful country property nestled on the banks of the mighty Hunter River and surrounded by lush green countryside with views over the river valley to Mount Rochford. Peppers Creek is centrally located on Broke Road in Pokolbin, the heart of Hunter Valley Wine Country.
The venue has been designed with rustic opulence in mind as an intimate space that can accommodate up to 200 guests seated or standing at tables set around the lawns and gardens. Alastair and Nicole celebrated their Ceremony in the on-site Chapel, and their Reception in the majestic Barrel room (complete with roaring fireplace).
Onsite accommodation is also available through www.pepperscreek.com.au which is the perfect place to stay with you and your wedding party prior to the wedding day. Peppers Creek offers three unique stone cottages, ideal for friend or family group getaways to the Hunter Valley. The onsite accommodation can be offered individually or as a group booking, a total of 26 guests can be accommodated in the cottages. Each cottage is fully equipped with all linen and towels provided for your stay.
Source: pepperscreek.com.au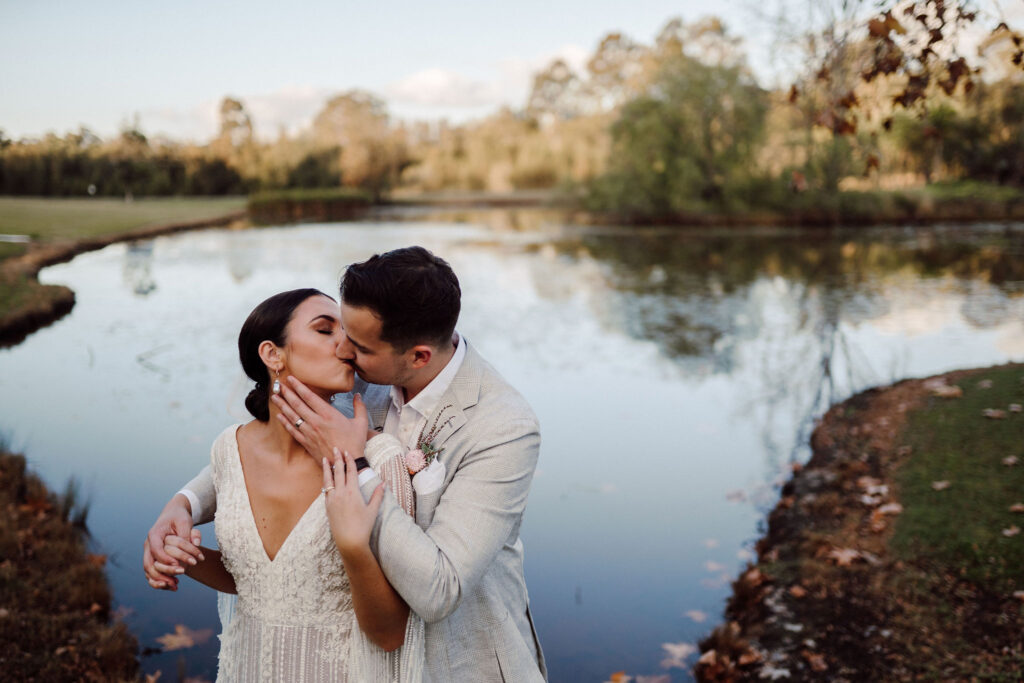 A little on booking their band..
For Alastair and Nicole it all started with their Best Man, Damien. Attending as a guest at another Duke wedding, Damien carved up the dance floor with us! After that night he didn't hesitate to let his besties know about the rocking band he saw and it was his personal recommendation which lead Alastair and Nicole to book with us. (Personal recommendations are the most common way our couples find us!). Being a creative couple with strong musical influences, it was important to them they find a discerning band who could perform a variety of tunes from Ceremony to Dance-Floor, and ensure guests would be partying well into the night. The perfect musical recipe for Alastair and Nicole's entire wedding day was absolutely our Duke Duo for their Ceremony and Canapés, partnered with our Duke Quintet for Dinner music and Dancing.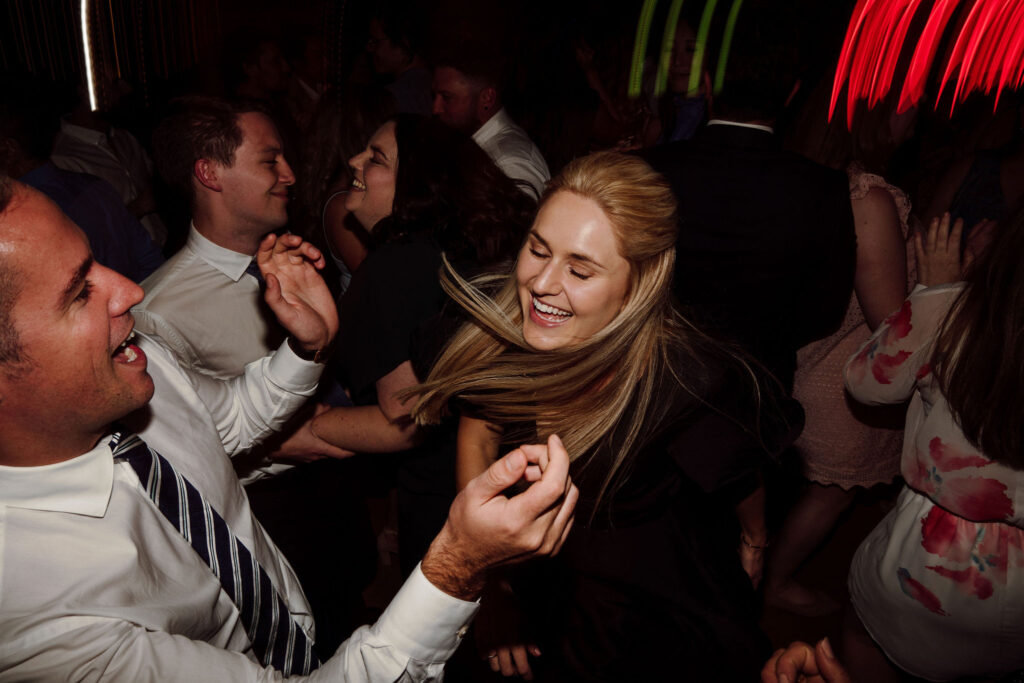 Their Wedding Ceremony in Peppers Creek Chapel
Their Wedding Ceremony was set in the Peppers Creek Chapel, an idyllic sandstone building, with traditional, antique timber church pews, lectern, signing table and chairs.  The sandstone Chapel offers the perfect country vineyard setting, overlooking the Merlot vines. We commenced their Ceremony with a song meant for a true One Direction fan (Nicole) called 'Little Things' as our Bride made her way down the aisle.

Certainly one of the highlights of performing for their Ceremony was to have Alastair come up to us soon afterwards to let us know how well he thought we'd played that song 🙂 Job done! The tone was perfectly set for the rest of the celebrations ahead!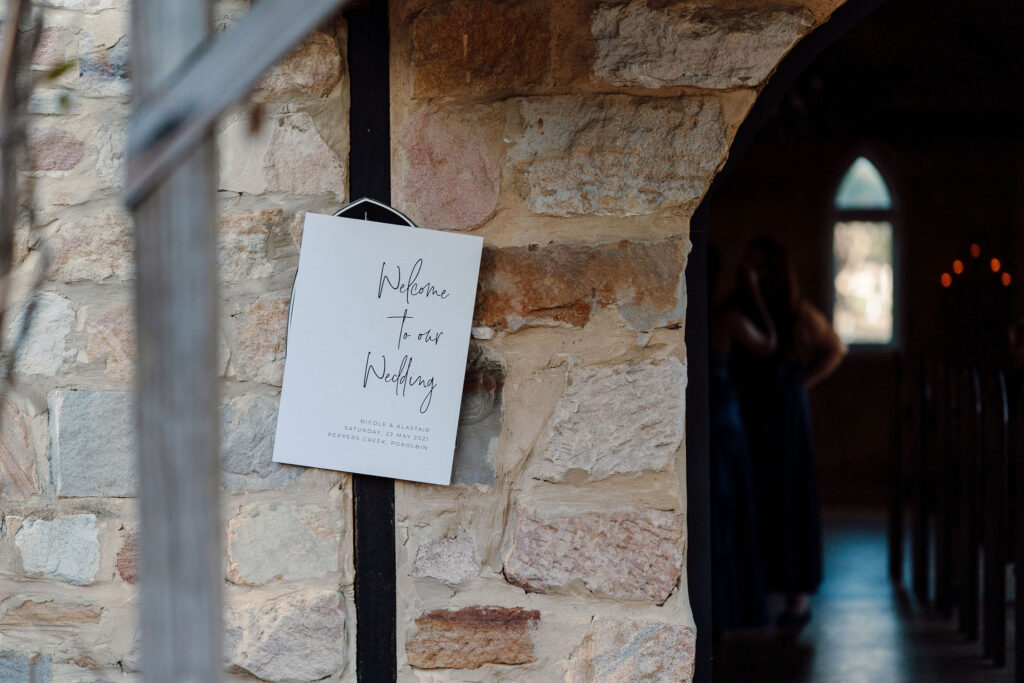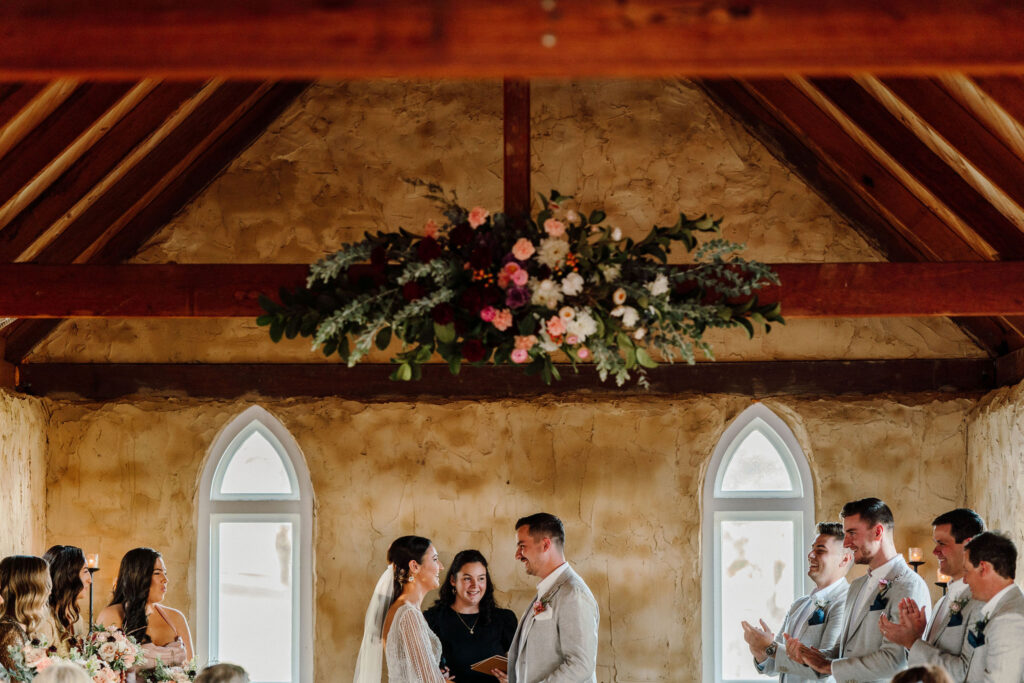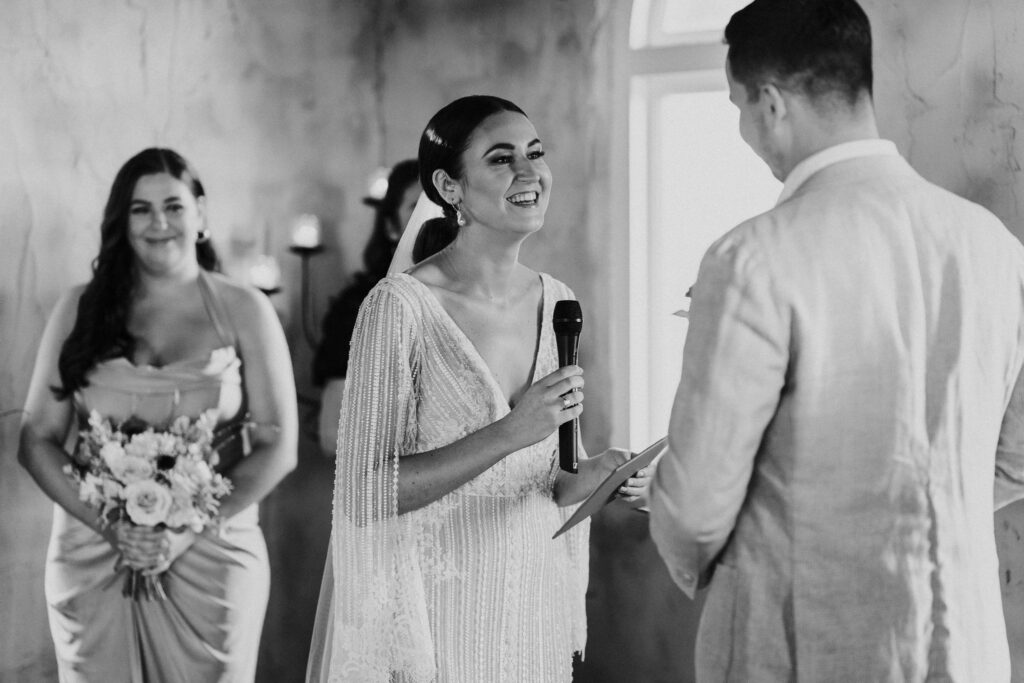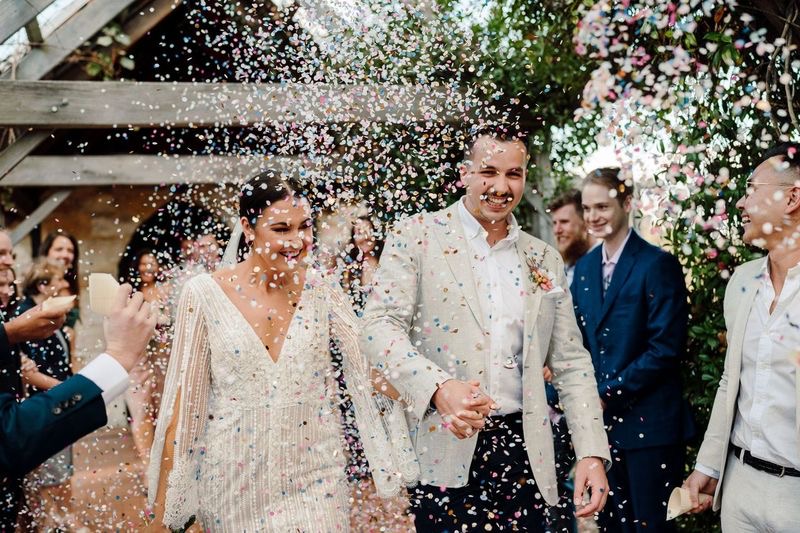 Some Canapes to see in the sunset
As Canapés continued after the Ceremony beside the Chapel, we played on as an Acoustic Duo in the Chapel courtyard whilst guests mingled and supped champers. Whilst we were providing some beautiful ambient music for guests to socialize, I had the pleasure of briefly getting a happy-snap with some long time friends (between songs) – what a joy to unexpectedly see them! This is a photo of me with Mark and his wife Denise (Damien's Mum and Dad!). Mark was the Musical Director of a show I performed back in 2008 .. just a little Disney production called 'Beauty And The Beast' where I had the honor of performing the lead role of 'Belle'. You can watch a little of it here!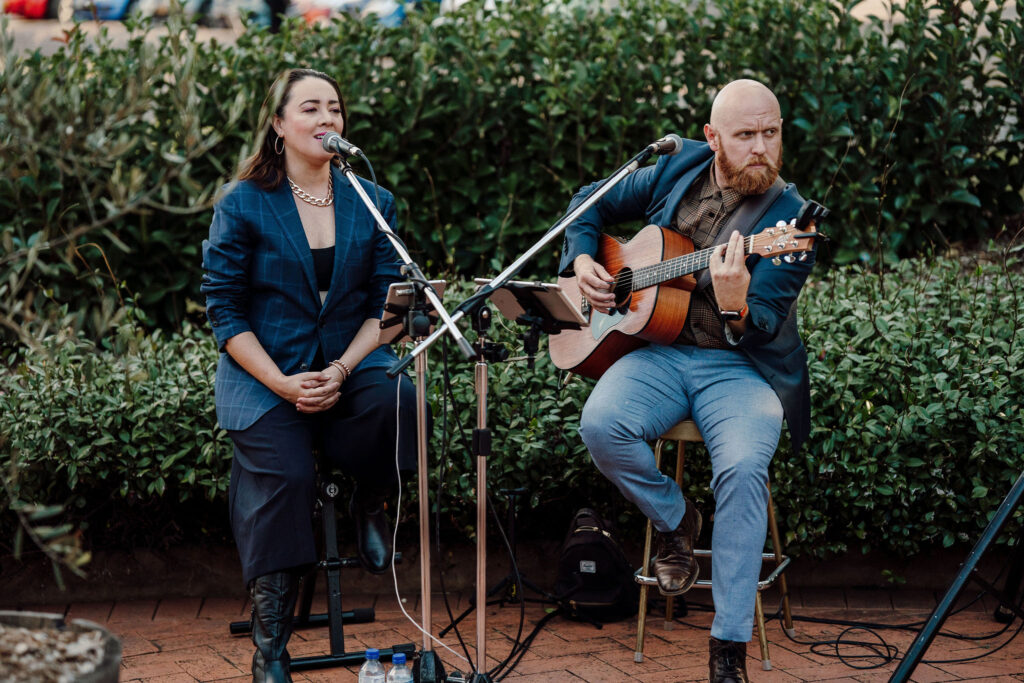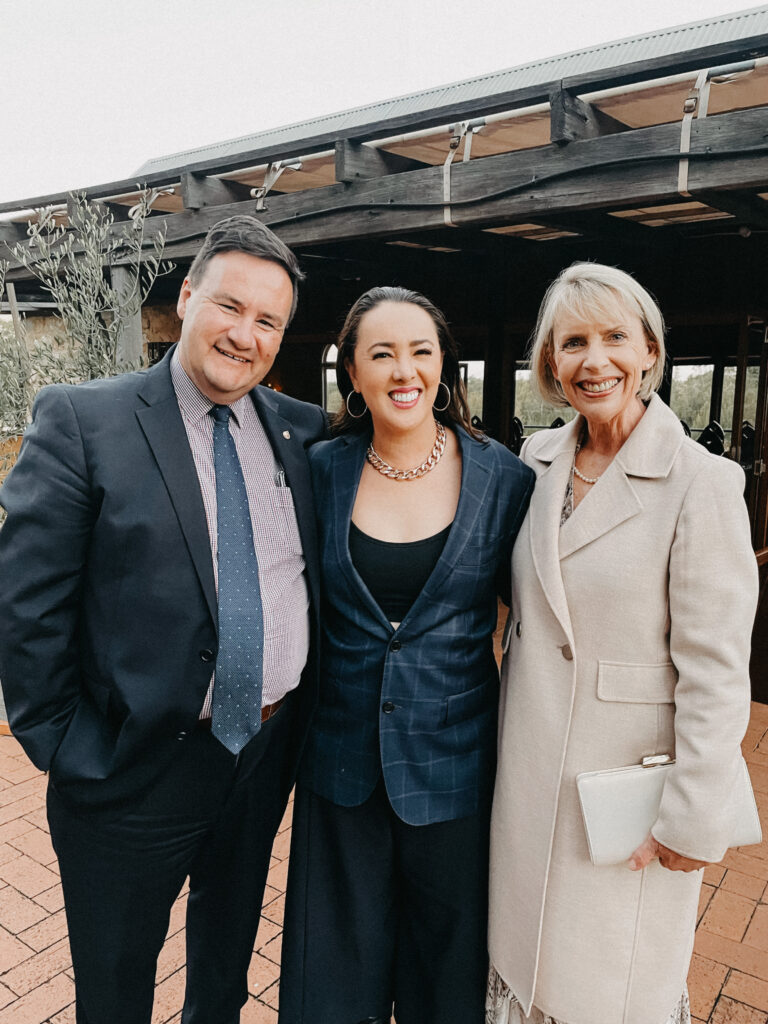 Off to enjoy some photos with their
'I Do Crew'
The stunning grounds of Peppers Creek Barrel Room include; vineyards, creek, chapel and of course the barrel room itself. There are many nearby locations which are perfect for capturing your couple photos, including long grassy spaces which are illuminated by the golden sunset. The country bush surroundings are just across the road with the hills behind them creating the perfect picturesque backdrop.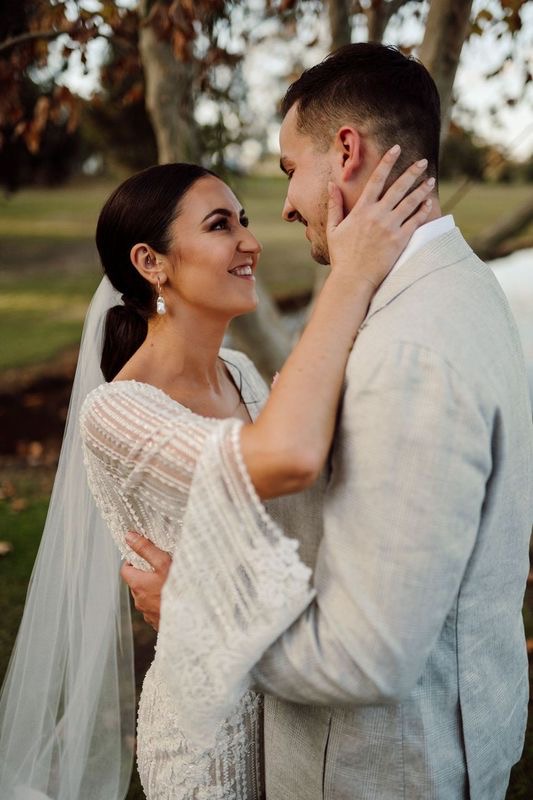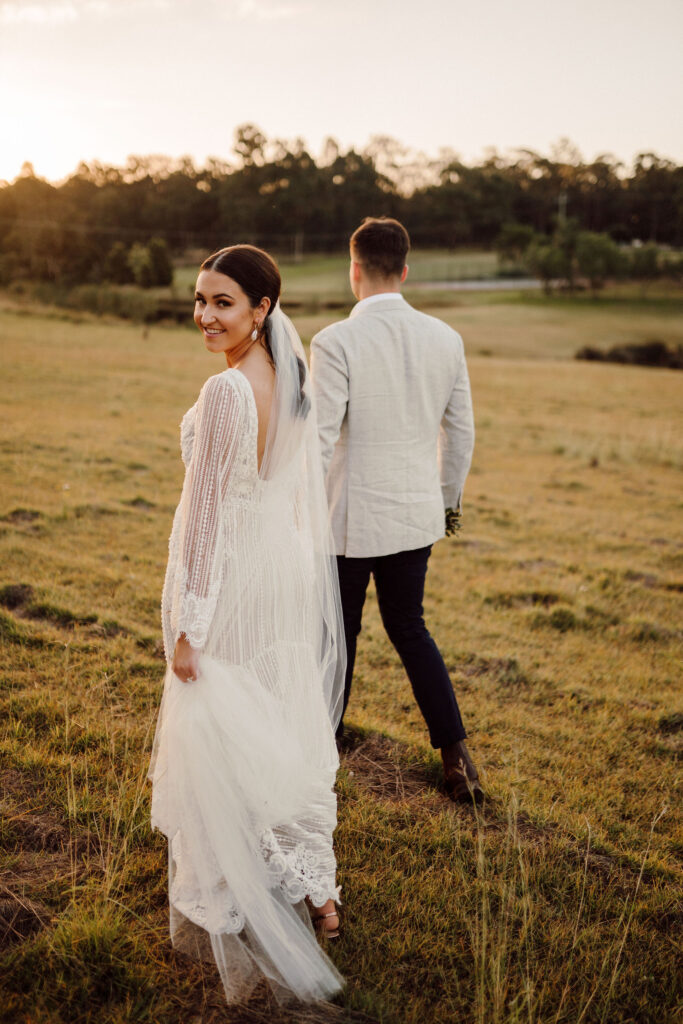 And the party begins!
Alastair and Nicole's Wedding Reception kicked off shortly afterwards, welcoming guests into the large Barrel Room (and cosy fireplace). Within short walking distance to the Chapel, the entrance to the building is framed by three meter high Indian elephant doors. The entertainment area is centred around a five-metre wide stone fireplace and the building is made from century old stone blocks.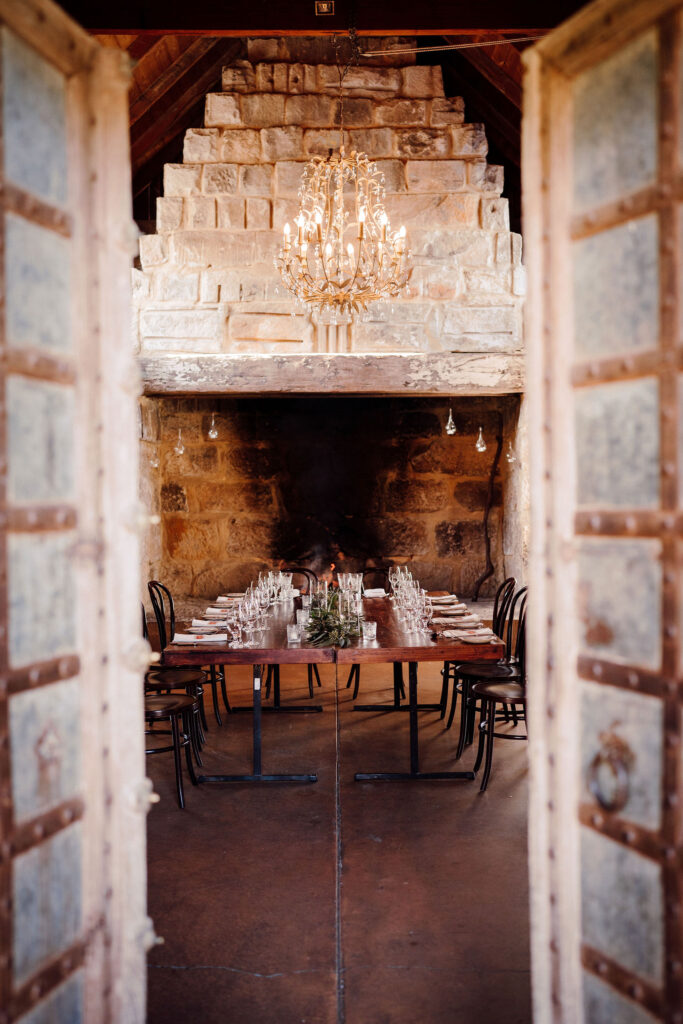 Duke had the honor of playing their Reception entrance song 'Let's Get It Started' by the Black Eyed Peas (classic!) as each couple was formally introduced to the wedding guests.
Then we swung straight into what our band loves, playing excellent dinner music. With our 5-piece band we performed throughout entrees and dinner service, warming up the guests for the blazing Dance-Floor to follow.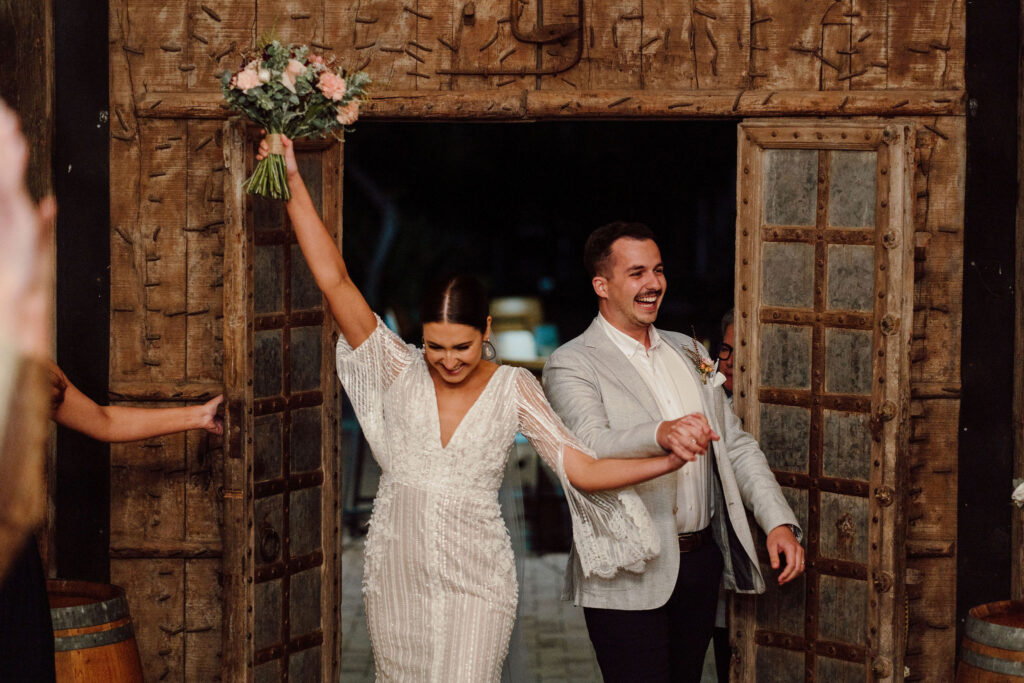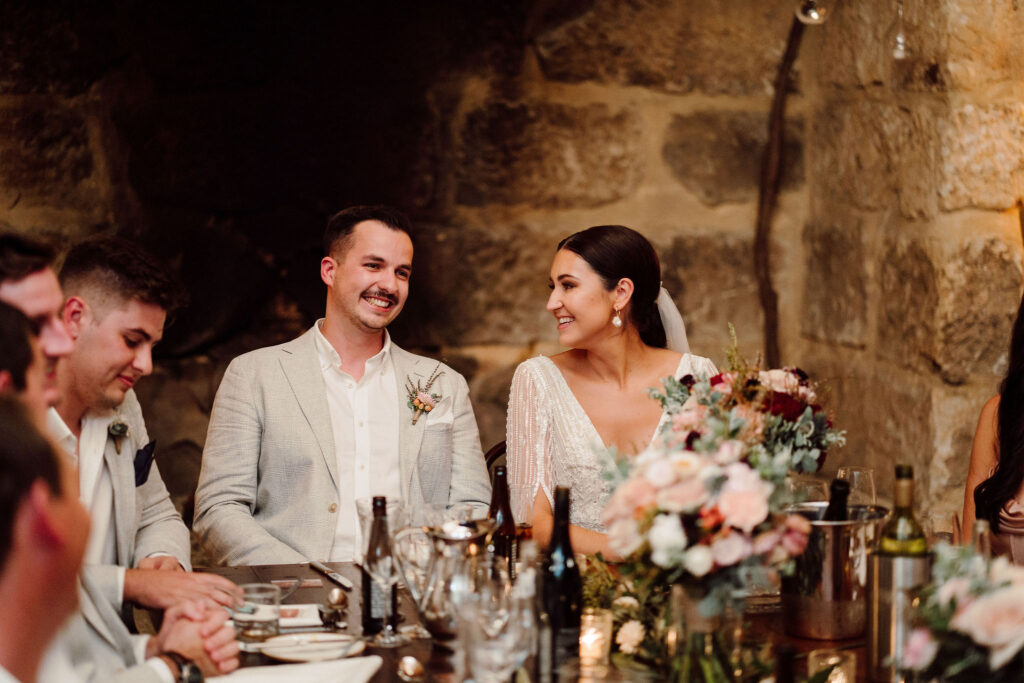 Let's the Dance-Floor commence!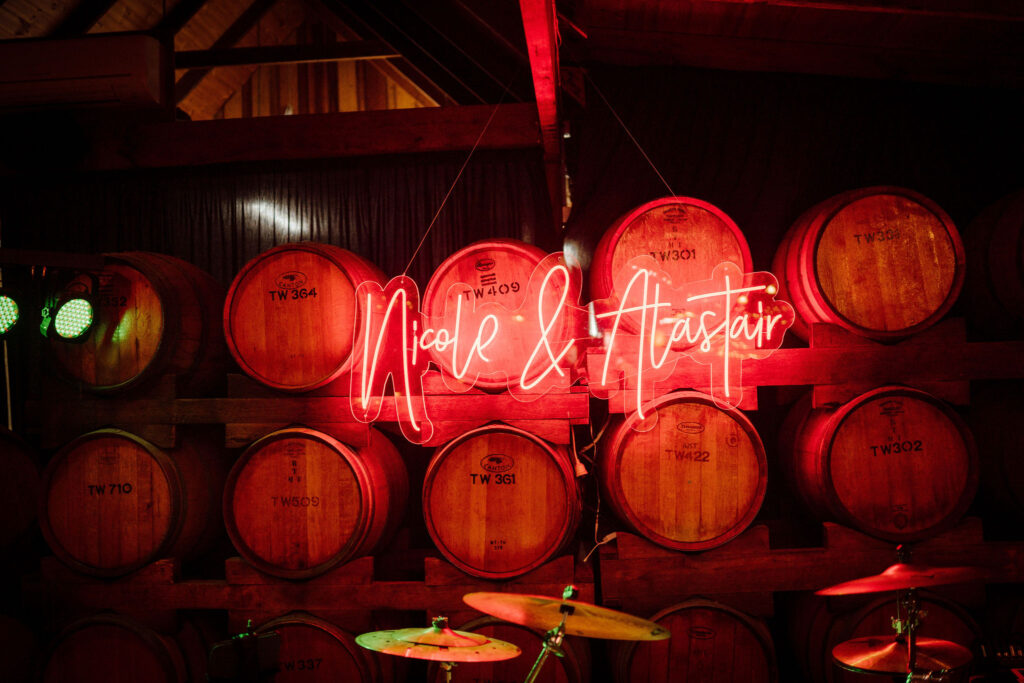 Alastair and Nicole official opened the Dance-Floor with their First Dance, our duke-inspired live rendition of Tamia's 'So Into You'.. one of our favorite tunes right now. Then, it was all guns blazing as Duke lit-up that dance floor and we partied hard into the night. We performed an array of classic bangers, retro sing-alongs, and blazing rock tunes. You have to see it to believe it.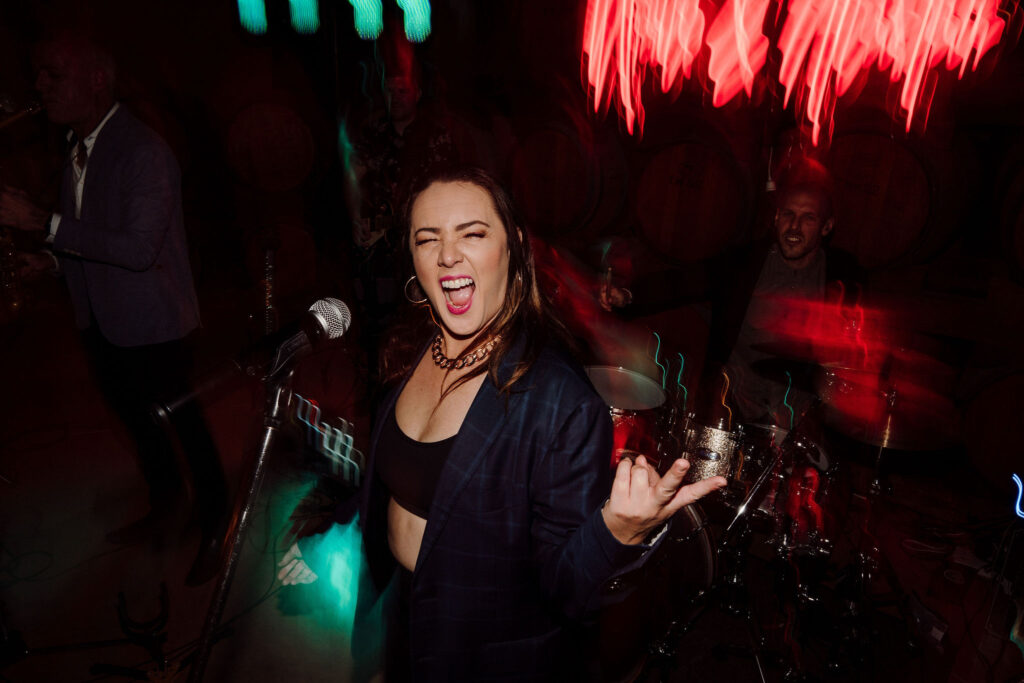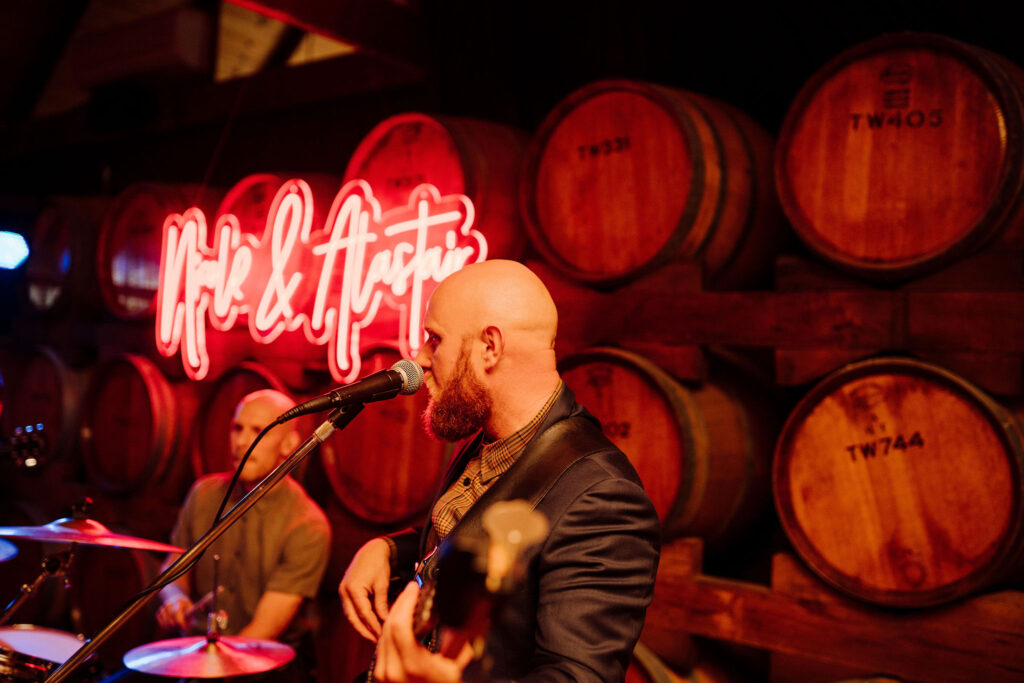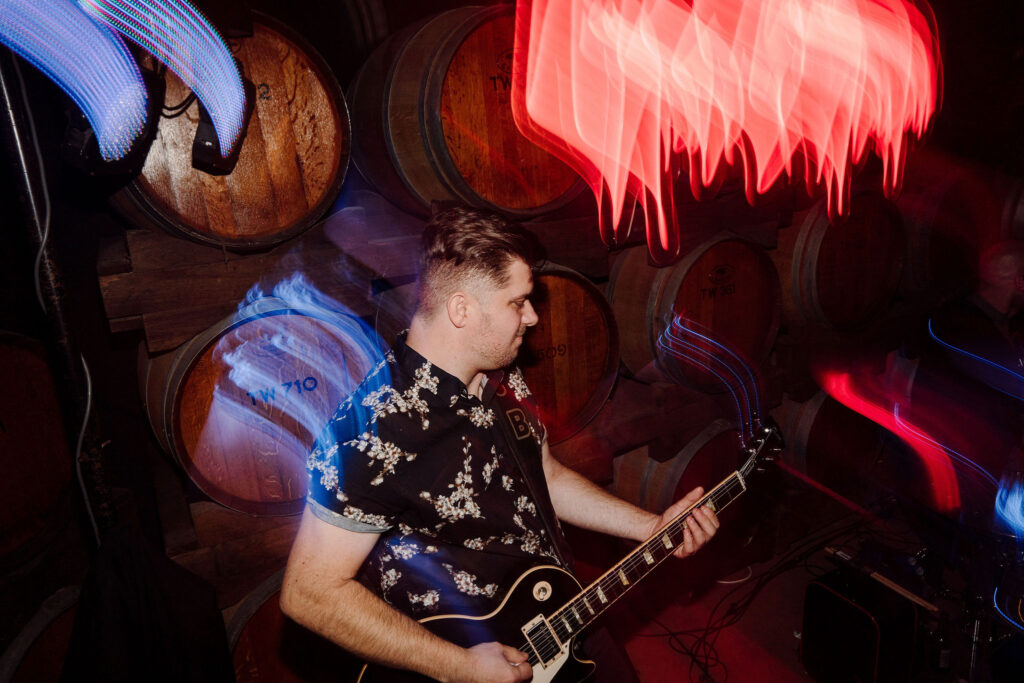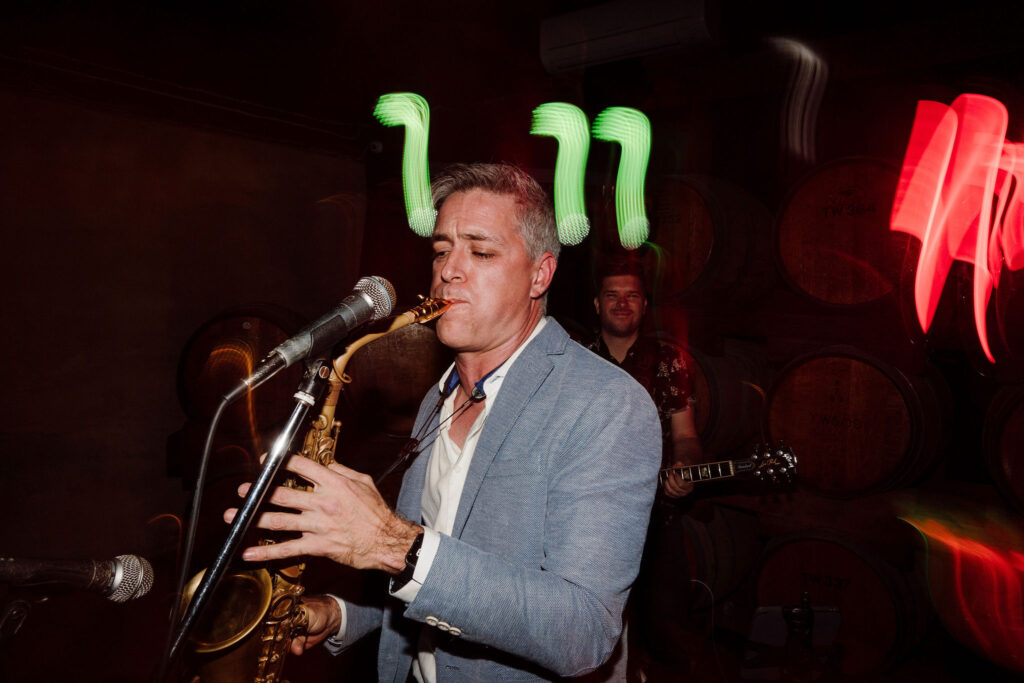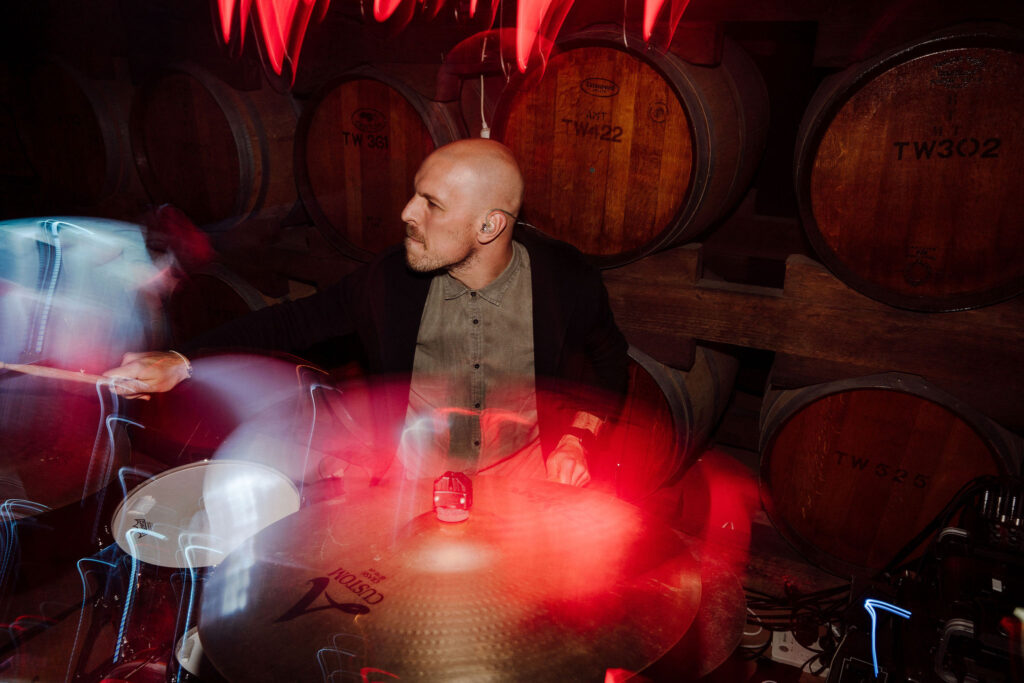 What a way to end the night!
After a HUGE night of dancing (goodbye, Covid restrictions!) it was only fitting we say goodbye with another One Direction classic for Alastair and Nicole, waving goodbye to them with 'Kiss You' as their Farewell song.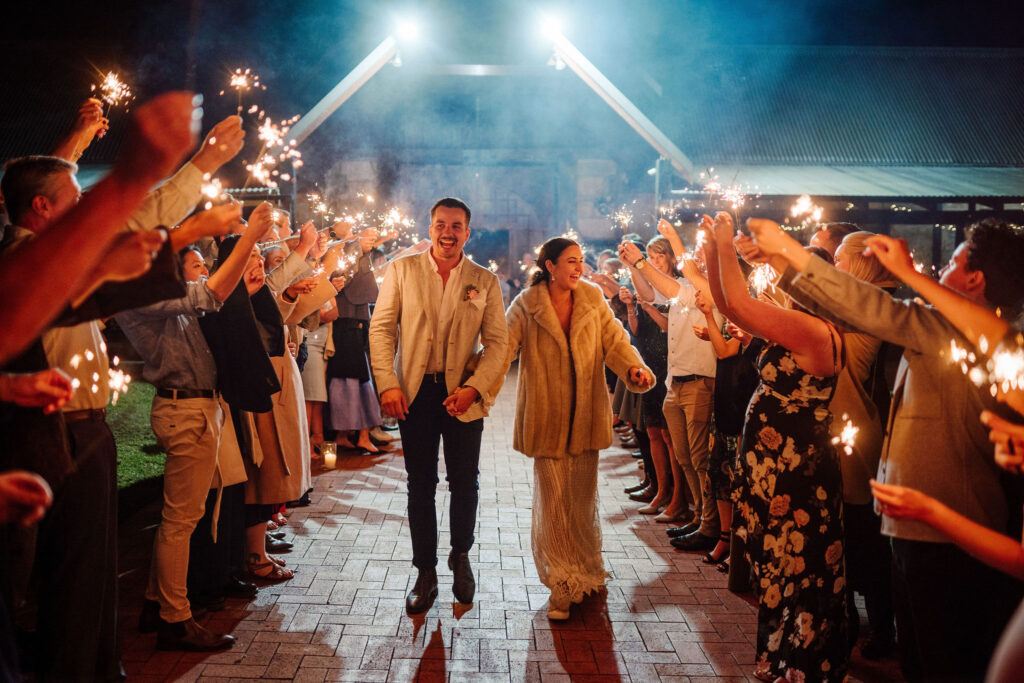 Alastair and Nicole's Review
If you've read this far into this blog post, lucky you! You'll be graced with some very kind words from our Groom, who summed up his experience with Duke kindly. What an amazing wedding day. We're stoked to share his words with you and hope that you'll be thinking of us for your wedding day, too!