After a year of waiting.. the day finally arrived!
It came as no surprise to us Dukies that after the long and patient year of waiting for their postponed wedding date, Covid wasn't going to stand in the way of these two having the wedding day dreams are made of.
A little on booking their band..
For Nicole and Alastair, it all started with their Best Man, Damien. Attending as a guest at another Duke wedding, Damien carved up the dance floor with us! After that night he didn't hesitate to let his besties know about the rocking band he s aw and it was his personal recommendation which lead Alastair and Nicole to book with us. (Personal recommendations are the most common way our couples find us!). Being a creative couple with strong musical influences, it was important to them they find a discerning band who could perform a variety of tunes from Ceremony to Dance-Floor, and ensure guests would be partying well into the night.
And what about their venue?
Celebrating amidst the Autumnal vines of Peppers Creek Barrell Room in the Hunter Valley, our couple had the luxury of all their wedding plans happening in the same location. Their Ceremony was held in the on-site Chapel, and their Reception in the majestic Barrell room (complete with roaring fire-place).
Choosing their music package
The perfect musical recipe for Nicole and Alastair's wedding day was absolutely our Duke Duo for their Ceremony and Canapés, partnered with our Duke Quintet for Dinner music and Dancing.
We commenced their Ceremony with a song meant for a true One Direction fan (Nicole) called 'Little Things' as our Bride made her way down the aisle. Certainly one of the highlights of performing for their Ceremony was to have Alastair come up to us soon afterwards to let us know how well he thought we'd played that song 🙂 Job done! The tone was perfectly set for the rest of the celebrations ahead!
As Canapés continued after that, we played on as an Acoustic Duo in the Chapel courtyard whilst guests mingled and supped champers. Whilst we were providing some beautiful ambient music for guests to socialize, I had the pleasure of briefly getting a happy-snap with some long time friends (between songs) – what a joy to unexpectedly see them! This is a photo of me with Mark and his wife Denise (Damien's Mum and Dad!). Mark was the Musical Director of a show I performed back in 2008 .. just a little Disney production called 'Beauty And The Beast' where I had the honor of performing the lead role of 'Belle'. You can watch a little of it here!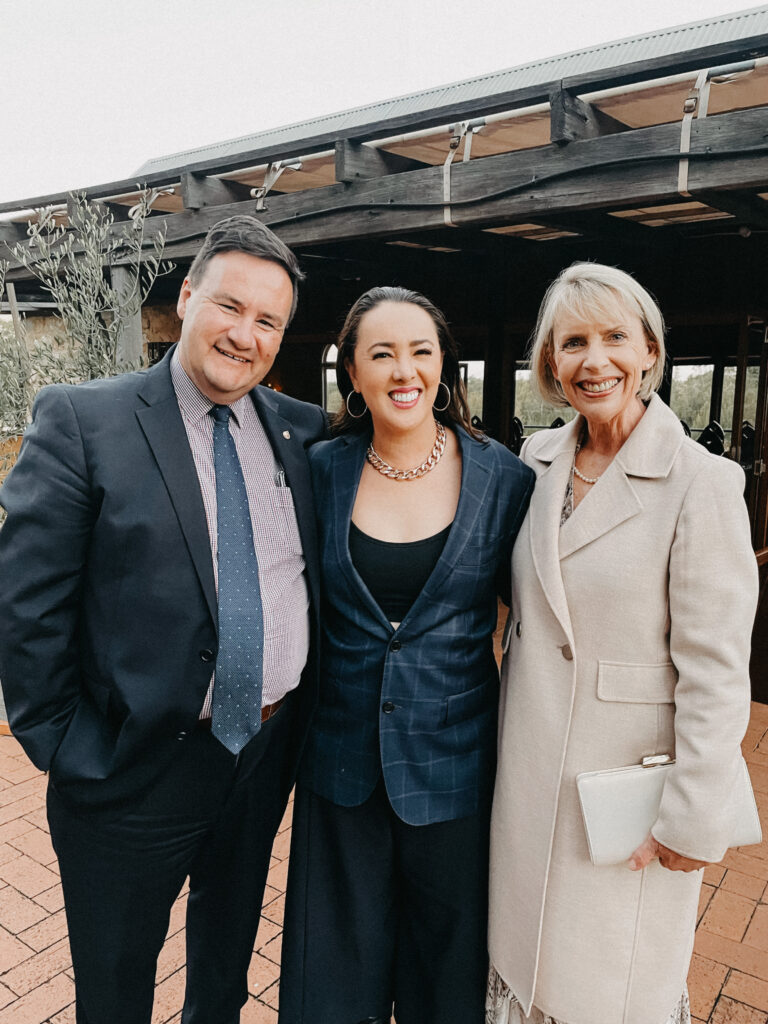 And the party begins!
Nicole and Alastair's Reception kicked off shortly afterwards, welcoming guests into the large Barrell Room (and cosy fire-place).
Duke had the honor of playing their Reception entrance song 'Let's Get It Started' by the Black Eyed Peas (classic!) as each couple was formally introduced.
Then we swung straight into what our band loves, playing excellent dinner music. With our 5-piece band we performed throughout entrees and dinner service, warming up the guests for the blazing Dance-Floor to follow.
Nicole and Alastair official opened the Dance-Floor with their First Dance, our duke-inspired live rendition of Tamia's 'So Into You'.. one of our favorite tunes right now. Then, it was all guns blazing as Duke lit-up that dance floor and we partied hard into the night. We performed an array of classic bangers, retro sing-alongs, and blazing rock tunes. You have to see it to believe it.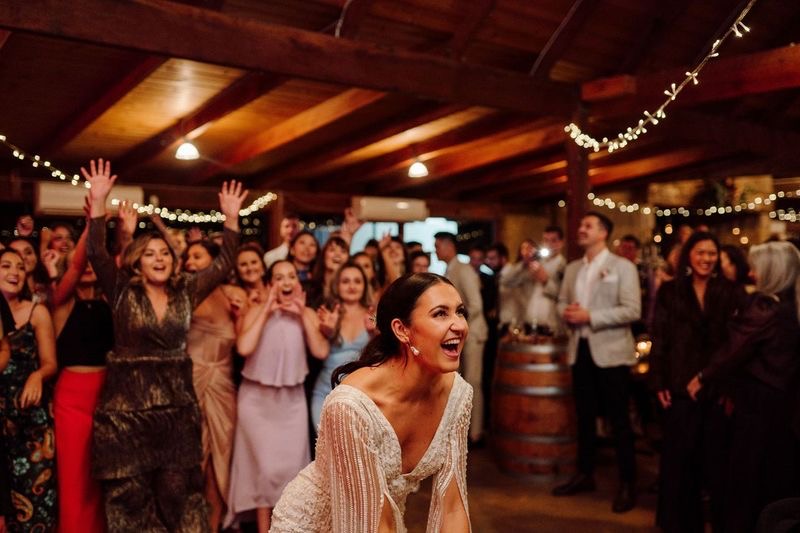 What a way to end the night!
After a HUGE night of dancing (goodbye, Covid restrictions!) it was only fitting we say goodbye with another One Direction classic for Nicole and Alastair, waving goodbye to them with 'Kiss You' as their Farewell song.
Al & Nicole's Review
If you've read this far into this blog post, lucky you! You'll be graced with some very kind words from our Groom, who summed up his experience with Duke kindly. We're stoked to share his words with you and hope that you'll be thinking of us for your wedding day, too!